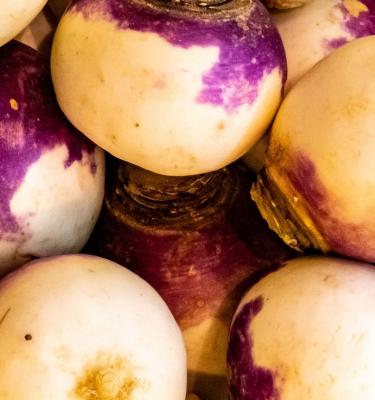 How to grow & care for turnip
Turnip are a fast and easy to grow root crop that's related to other broccoli, cabbage and other brassicas. Although turnips are often thought of as bland and boring, this old fashioned vegetable is making a comeback - particularly in home gardens.
There are many varieties of turnip to choose from and they range in colour and size. You'll find turnips in white, yellow, green and purple and some varieties grow to golf-ball size - while others are best harvested when the size of a tennis ball. 
Turnips can be grown in all climates around Australia. In the coldest areas plant between August and March, but in warmer areas it's best to avoid the extreme heat of summer and plant them in late summer, autumn or even early spring. Harvest turnips around 5-12 weeks after planting, depending on the variety - both the root and foliage are edible. 
Young turnip leaves can be cooked as you would baby spinach, while older leaves are best chopped and added to soups or stews for longer cooking. Turnip roots can be eaten raw, steamed, roasted or added to soups and stews. 
Top 5 steps to growing turnips  
Choose a full sun position for turnips that didn't just grow another brassica crop (eg. Broccoli, cabbage, cauliflower) - practising crop rotation helps prevent soil borne diseases that brassicas are prone to building up in the soil. 
Improve the soil before planting by adding compost or Scotts Osmocote Compost Premium Soil Improver and fork it through the top 10-20cm of the soil, breaking up any soil lumps as you go.  
Direct sow turnip seeds 5mm deep into dampened, prepared soil. Keep them moist, but not soggy until the seeds germinate in 7-10 days. 
Some varieties of turnip can be ready to harvest 35-40 days after planting when they are the size of a golf ball. While others take 10-12 weeks to be ready for harvest. 
Slugs and snails are a big problem for young turnip seedlings. Sprinkle Defender Slug & Snail pellets around to keep your crops from attack. 
Shopping List
Prepare
Choose a full sun spot for your turnips that hasn't just grown another brassica crop like broccoli or cabbage. Consecutively planting 2 brassica crops one after the other can increase the risk of soil borne diseases that brassicas are susceptible to. Turnips are a great crop to plant in an area after you've just harvested corn, tomatoes or beans. 
Enrich the soil before planting turnips with Scotts Osmocote Compost Premium Soil Improver, dug through the top 10-20cm of soil. Water the soil or potting mix before planting to make it damp, but not soggy. 
Growing from seeds
Turnips are most readily available as seeds from nurseries and garden centres. Sow turnip seeds directly where you want them to continue growing - plant them 5mm deep and allowing 7-10cm between plants. Your turnip seeds should germinate in 7-10 days and they can be thinned to the correct spacing after they've germinated if you've planted them too closely together. 
Fertilise with a light sprinkle of Scotts Osmocote Plus Organics All Purpose (including Natives) Plant Food & Soil Improver once the turnip seedlings are about 10-15cm tall. Mulch around your turnips plants to suppress weeds and retain moisture.
Planting in pots
Turnips can easily be grown in medium to large pots at least 40cm deep by the same width. Fill the pot with Scotts Osmocote Plus Organics Premium Potting Mix and water it to dampen the potting mix. Sow the turnip seeds deep 5mm deep and 7cm apart or thin the seedlings to this spacing once they've germinated (7-10 days after planting).
Fertilise with a light sprinkle of Scotts Performance Natural All Purpose Organic Based Fertiliser on the potting mix surface once the turnip seedlings are 10-15cm tall. 
Mulch around your turnip plants to suppress weeds and retain moisture. 
Harvest 
Depending on the variety of turnips you've grown, you'll be able to begin harvesting from as little as 35 days! Although most varieties are ready for harvest around 6-10 weeks after planting. Turnip roots are sweetest and most tender if harvested before the plant flowers - after flowering the roots will become tough and fibrous. 
Turnip leaves are also edible and you can harvest them while waiting for the roots to develop. Just don't take more than 50% of the leaves from anyone plant at any one time or you'll delay the root formation. 
Pests & Diseases 
Slugs and Snails will cause significant damage to turnip seedlings, particularly when they are very small. Protect your turnip crop by setting beer traps (saucers filled with beer) or use Defender Slug & Snail Pellets.