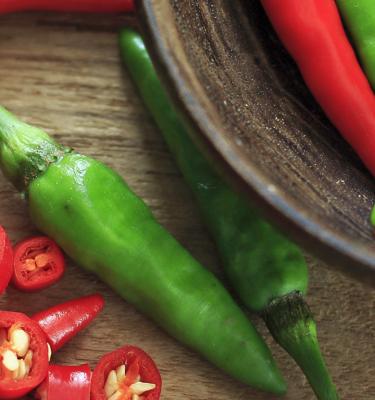 How to grow chillies
It seems that most people now have at least 1 or 2 chilli plants at home – it's become incredibly trendy. Growing chillies is also super easy and great for beginner gardeners. 
So, if you want to grow the freshest, tastiest chillies at home to add some spice to your dishes (and save yourself time and money), here we'll run through everything you need to know. We cover the types of plants to choose from, how to grow chilli plants from seed, how to harvest them and any pesky insects to look out for. 
On this page: 
What you'll need
To grow chillies, you'll need: 
Chilli seeds
Large pot 
Gloves and mask (if it's dusty) 
Watering can 
What to consider when growing chillies
To ensure a reliable crop, chillies need a warm, sunny position outside or they can be grown in a glasshouse or covered structure. Very hot chilli varieties definitely grow better under cover, as this helps develop the intense heat, taste and flavour.
Although they can be grown in well-prepared, moisture-retentive soil, they usually crop better and more reliably if grown in pots. Their close relatives capsicums or sweet peppers, on the other hand, do better grown in the vegetable patch.
---
Types of chilli plants
There are dozens of chilli varieties ranging from warm through hot to XXXX. Even those labelled as 'warm' may be too hot for some people's palates! While it is not always true, generally the smaller the chilli, the hotter it will be. The following are all good reliable varieties of chilli:
Bird's Eye
Cayenne
Cherry
Long Red
Long Green
Poblano
Habanero
Jalapeno
Thai Hot Dragon
One of the hottest chillies you can grow at home is Carolina Reaper, which is extremely hot.
The hotter the variety the longer the whole growing process will take (from germination through to ripening) so bear this in mind when selecting your preferred type.
To learn more about growing chillies, watch our helpful video below. 
---
How to grow chillies from seed
You can sow seeds from August to October. It is usually better to sow as early as possible, even July if you're growing very hot chillies, as they need a long warm season to crop well.
Sow seeds at indoor temperatures of 18-21°C in pots of premium seed raising mix. Transplant the seedlings into individual 9-l0cm pots when two true leaves have formed, and grow them on at around 16-18°C.
Gradually harden off the plants for 10-14 days before planting outside.
Soak chilli seeds overnight in warm water before planting OR gently sandwich between a damp paper towel, place in a plastic bag and leave in a warm position for a couple of days to improve germination.
Chilli seeds love hot weather so if you don't have a heated glasshouse handy, grow them in a pot on the kitchen window sill for a bit of extra warmth.
Sow chilli seeds as early as possible (late winter for the hot varieties).
Sow seeds in small and very shallow pots (about 5mm deep). Transfer to a larger pot when two leaves have developed, try not to touch the forming roots when re-potting to prevent accidental damage.
Water regularly but don't allow the soil to become too moist. Cover the seed tray with perlite to aid moisture and heat retention, both of which the chilli seeds love.
If seedlings are to be planted outside in the garden, gradually harden them off for 14 days (leave outside during the day and bring in overnight).
Feed with a vegetable fertiliser as instructed on the label.
---
How to care for your growing chilli plants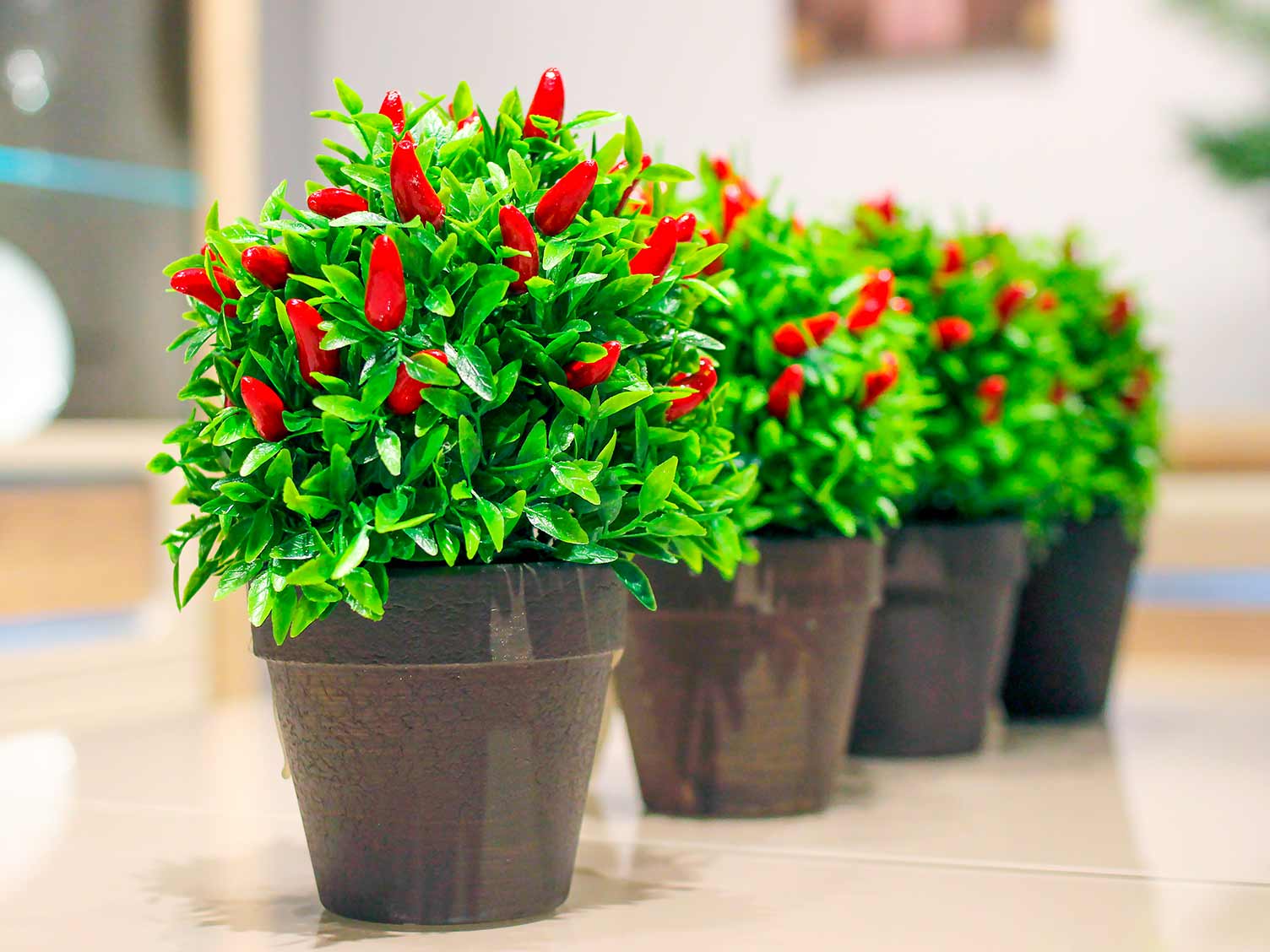 Make sure you consider the following when looking after your chilli plants: 
Chilli plants like growing in situations where the temperature can be easily regulated. If growing outside, select a sunny, sheltered, well drained position. If growing inside, a sunny window sill or conservatory is perfect. Just remember - don't let the soil dry out.
Seedlings are ready to put into their permanent cropping position once the roots fill the small propagating pots. Move them up into 20cm- pots of superior potting mix in late September or October if growing in a glasshouse), or late October if growing outside.
Pinch out the growing tip when plants reach about 15-20cm high to encourage bushy growth and better cropping. You can also pinch back the sideshoots if lots of smaller chillies are preferred.
Pollination is needed to get fruits. Rub the bristles of a small paint brush (or use your little finger) gently over the flower heads to ensure that pollination occurs. If growing outside the chances for natural pollination are higher so this may not be necessary.
Give at least 60ml of water per week once the fruits have appeared, spray rather than water at the base to prevent over watering.
Feed with a vegetable fertiliser, switching to a high potash food when the first chillies have set. 
Mist the foliage regularly, especially under cover, with tepid water to discourage red spider mite and to improve cropping.
Chilli plants grown indoors can be treated as perennial houseplants and will need a good prune in the winter months.
How to harvest chillies
Pick the fruit as needed when it has reached a good size. You can either pick them when they're green (when the flavour is quite mild) or leave them on the plants until they have turned red, which develops a stronger, hotter flavour.
Harvest your chillies by snipping the top of the stalk with sharp secateurs. Frequent harvesting of the fruits allows the plant to devote its energies to developing more fruit.
Chillies can be dried or frozen for later use. Dried chillies make an interesting alternative for festive decorations.
---
Common chilli plant pests
You'll want to give your chilli plants the best chance of surviving, which means keeping your eye out for pests. 
Chilli plants can be susceptible to the following plant pests: aphids, whitefly and red spider mite. Aphids can cause stunted growth with curled or distorted leaves – they can also weaken the plant. Whiteflies can release toxic substances into the plant, whilst red spider mites can cause plant death in severe cases. 
Be on your guard to protect your chilli plants, and use a pyrethrum spray to control pests or hang yellow sticky traps among plants.
Now you're ready to grow chillies at home. Don't forget our chilli growing tips and make sure you stock up on your essential products, including both Performance Naturals Premium Potting Mix and Performance Naturals Tomato, Vegetable and Herb Fertiliser. 
You'll also find more growing guides and tips and tricks for your garden in our advice and inspiration section. Good luck with your chilli plants!