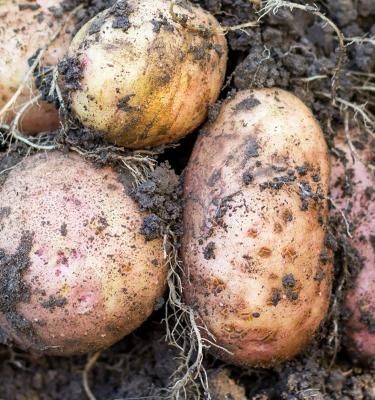 How to grow potatoes
Potatoes (Solanum tuberosum) are tubers that grow and form at the plant's roots. Plants also produce flowering shoots that appear above ground but the resultant fruits are not harvested or palatable. The edible tubers, an important carbohydrate in the human diet, are also rich in potassium. They are a versatile ingredient in both hot and cold dishes and can be prepared in a variety of ways. Luckily, it is easy to grow potatoes at home, in containers and in the ground, and just a few plants have the potential to provide large harvests.
---
Planting and harvesting potatoes in Australia
In warm climates, plant potatoes between March-April. In cool climates, plant potatoes between July-August.
Potatoes can be harvested between 90-120 days from planting. In warm climates, harvest potatoes between June-August and in cool climates harvest between December-February.
---
Varieties of potato
The texture of cooked potatoes varies between waxy and flowery. Some varieties are best for boiling, others for roasting and even more for chips.
In Australia, the best varieties for the home garden (and their uses) are:
Nadine – white skin and creamy flesh; good for salads and boiling, excellent for mashing and roasting
Kennebec – cream coloured skin and flesh; good all-rounder and excellent for chips
Sebago – one of this country's favorite 'spuds' and a good all-rounder
Pontiac – pink skin and white flesh; excellent for boiling and mashing, not suited to frying or chips
Desiree – another good all rounder, yellow, waxy flesh that's excellent for mashing
Kipfler – waxy textured and butter flavoured flesh that is perfect for mash and potato salads; not recommended for roasting or frying
Dutch Cream – yellow skin and creamy yellow flesh; excellent for salads, boiling and roasting
Pink Eye – cream and purple with waxy, yellow flesh, ideal for roasting, mashing and boiling
White Star – smooth, cream skin and flesh; good all-rounder suited to warmer climates
When planting potatoes, always buy 'certified virus-free' seed potatoes that are commercially produced rather than delving into the pantry and pulling out those potatoes at the bottom of the vegetable box that have already begun to sprout! Using seed potatoes will ensure your plants are disease-free, true to type and will produce good yields.
---
Potato growing equipment list
Here's what you'll need to get started growing potatoes:
Seed potatoes
Deep container or grow bag
Trowel
Garden fork and spade
Watering can
Storage crates, bags, or sacks
---
How to plant potatoes
Availability of seed potatoes will depend on your climate – check with local supplies. If you purchase them a few weeks prior to planting, you can give them a head start by allowing them to 'chit'.
Chitting involves leaving seed potatoes in a cool, light, and frost-free place to sprout. Take care when handling sprouting potatoes, as the sprouts are fragile and can break off. If you don't have time to chit the potatoes before planting, they should still sprout underground but it may take a bit longer for the shoots to appear above the soil.
Planting potatoes in the ground
Potatoes grow in most soil types, but crop best in loose, fertile soil in full sun. They are often planted to assist in breaking up heavier loams.
Prepare your soil by adding well-weathered animal manure in the autumn before planting, or vegetable and herb fertiliser prior to planting.
Dig shallow trenches 7.5-15cm deep and plant the potatoes with the sprouts, or eyes, facing upwards. Space them 30-45cm apart in the rows.
Backfill and cover the seed potatoes with soil before watering. Try not to water too frequently before you see shoots, because seed potatoes can rot in wet soil.
Planting potatoes in containers
If your soil is a heavy clay, or you are short of space, you might have more success growing potatoes in raised beds or containers. Varieties producing small to medium sized tubers will do better in pots than large tuber varieties that require plenty of space.
Allow about 10 litres of potting mix per seed potato so, for a 40-litre container, plant up to four seed potatoes.
When planting potatoes in containers, use a superior quality vegetable potting mix and vegetable and herb fertiliser and make sure the container, or sack has adequate drainage holes.
Fill the container a quarter full with mix and place the seed potatoes on the surface, again with their shoots or eyes facing up.
Cover the seed potatoes with more mix to 2-3cm below the top of the container. Give it a water and wait for the shoots to appear.
---
How to grow potatoes
While in active growth, keep the plants well-watered, especially during dry spells, and continue to feed for higher yields. Flowers are a sign that potato tubers are forming in the soil.
You may also need to mound up the soil around the base of the plants as they continue to grow. This helps to keep the plant roots cool and protects tubers forming close to the soil surface from exposure to the sun, where they run the risk of turning green and poisonous.
Potatoes will grow in almost any soil, however, they crop much better if the soil is enriched with heaps of organic matter. They do best in an acid soil so add well weathered manure and garden compost. It is also important that you do not add lime to the soil at any time.
---
How to harvest potatoes
Your potato crop will be ready to harvest once there is a yellow colouring on the stems and leaves. Cut the plants down to soil level then about a week later, start lifting the crop with a garden fork, taking care not to spike any of the tubers.
After harvest, spread the potatoes out somewhere dry and out of the direct sun to allow the soil left on them potatoes to dry so it can be easily brushed off. When selecting which potatoes to eat immediately and which can be stored, test the skin with a finger. Those with skin which tears easily when pressed should be used quickly, while those with a firmer skin can be stored. Choose a dark, cool and well ventilated position and put potatoes into appear or hessian bag.
There's nothing quite like growing, cooking and eating your own potatoes. Just think of the culinary possibilities.
---
Common potato pests and diseases
Potato blight

This is a common disease that occurs in damp, warm summers. Initially, a brown watery rot will rapidly spread affecting both the stem and the leaves. In terms of tubers, they turn a reddish brown colour when infected. They appear firm to begin with, but then develop into a soft rot below the skin. Potato blight is a difficult one to remedy, as unfortunately once it has struck, it is not easy to stop.

There is currently no chemical product that can be used to fight blight.

Bacterial wilt (Brown rot)

A bacterial disease that mainly affects the roots and enters plants mostly through injuries caused mechanical damage (hoeing, digging). Affected plants may wilt, yellow, become stunted and die back.

Destroy all infected potatoes and rotate crops.
Control self-sown plants.
Don't return potato waste (plants) to the soil

Potato rot

Potato rot is a significant problem that may follow a wet growing season, especially if the tubers are lifted from wet soil. The best way to remedy potato rot is:

Use good quality seed tubers that are resistant certified.
Harvest at a time when the soil is not wet nor dry.
Store your potatoes in cool and dry conditions.

Slugs 

A huge nuisance where potatoes are concerned, slugs and snails will eat holes in the potato leaves, and will burrow into the tubers themselves. The tell-tale sign of a slug problem is the slime trail visible on the soil near your crop, and also on the leaves themselves.

Check plants (at night) and remove pests by hand.
Covering the soil around plants with copper tape, crushed eggshells or grit may have some effect.
Scatter snail and slug pellets if other methods are not adequate.