Debco® Seed & Cutting Mix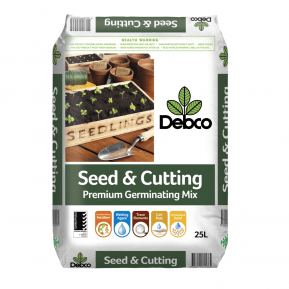 Debco® Seed & Cutting Mix
Debco Seed & Cutting Mix contains quality key additives for effective seed germination and the propagation of cuttings for most plant types.
Specifically formulated as a light, loosely textured mix for excellent moisture retention, whilst allowing adequate aeration and good drainage.
FEATURES
Controlled Release Fertiliser - Distributes nutrients as plants need it, up to 6 months
Wetting Agent - Ensures nutrients get to the root zone
Trace Elements - Micro-nutrients vital to plant growth
Coarse Grit - Allows drainage and aeration in the mix for optimal plant establishment and development
Horticultural Sand - Holds moisture around plant seed
Materials used in the production of Debco potting mixes are sourced from renewable and sustainable resources where possible
SUITABLE FOR
 Debco Seed & Cutting Mix has been formulated to provide a light, well-textured mix ideally suited for effective seed germination and the propagation of cuttings
HOW TO USE
Debco Seed & Cutting Mix is ready to use straight from the bag with no further additives required.
 
FOR SEED GERMINATION
Fill the tray with mix to within 1cm of the top of the tray and firm gently.
Make a shallow furrow in the mix to a depth of about 2–3 times the size of the seed.
Sow seeds into furrow allowing space between seeds for easy transplanting once germinated.
Thinly cover the seeds with the mixture.
Lightly water and place tray in a warm sunny location for germination. Avoid very hot conditions and do not allow to dry out.
Feed with a half strength soluble fertiliser once the new plant has reached 2–3cm tall.
Plant out seedlings into the garden or pots when established and continue watering and feeding.
FOR PROPAGATION
Fill seedling tray, pots or cell tray with the mix. Water thoroughly and allow to drain.
Cut stems from a healthy plant into 5-8cm long lengths removing the leaves off the lower two-thirds of the stem.
Use a rooting hormone on the base of the cut stem.
Make a hole in the mix with a pencil, insert at least 2–3cm of the stem into the mix and firm gently.
Water well and place in a sheltered location or green house. Remember to keep the propagation mix moist but do not overwater.
Once the cuttings have established roots to about 2–3cm long, transfer into a pot using a premium quality potting mix.
SAFETY TIPS
We recommend you always wear gloves when gardening. Wear a particulate mask if dusty.
SAFETY INFORMATION
This product contains micro-organisms
Avoid breathing dust or mists
Wear a particulate mask it dusty
We recommend you always wear gloves when gardening and keep the product moist when handling
Wash hands immediately after use
Read the detailed warning label on the bag
TECHNICAL DETAILS
A range of macro & micro-elements are required for sustained plant growth in mixes
Through the correct balance of air and water, specifically selected controlled-release fertiliser and other essential plant nutrients your plants will flourish in this potting mix
Health and Safety
Always read the pack label and product instructions carefully before use. For further information relating to product safety please review the product data safety sheet link below.

Debco® Seed & Cutting Mix
25L (other sizes available)