Scotts Osmocote® Orchid Coarse Mix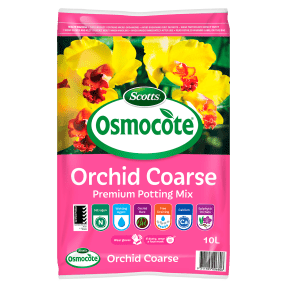 Scotts Osmocote® Orchid Coarse Mix
Osmocote® Orchid Coarse PremiumPotting Mix has been developed byhorticultural experts to provide the idealmoisture and nutrient environment forhealthier plants.
This formulation providesthe ideal growing environment for a broadrange of epiphytic orchids including Cattleya,Oncidiums and Dendrobiums.
FEATURES
Nitrogen -For healthy growth
Wetting Agent -Ensures nutrients getto the root zone
Orchid Bark -Provides ideal aeration for roots
Free Draining -Stimulates the growing conditionsof epiphytic plants
Calcium -Supports nutrient uptake andstronger plant cells
Epiphytic Orchids -Ideal for Epiphytic Orchids such asCattleyas, Oncidiums & Dendrobiums
SUITABLE FOR
Ideal for Epiphytic Orchids such asCattleyas, Oncidiums & Dendrobiums
Safe to use for new plants - the controlled release of nutrients means it will not burn soft leaves or tender young roots
NOT SUITABLE FOR
Don't use for phosphorus sensitive Australian native ground orchids like greenhoods, donkey and sun orchids - useScotts Osmocote®Professional Native Potting & Planting Mix instead
Don't use in hydroponic growing systems or ponds
Don't use on lawns - use only specifically named lawn topdress soils on grassed areas
HOW TO USE
Osmocote® Orchid Coarse Premium Potting Mix is ready to use straight from the bag with no further additives required.
Select a pot that will comfortably accommodate the plant for the next 2 years.
Place the plant into the pot ensuring the bulb is level with the top of the pot.
Fill new mixture around the root system while holding the plant, gently tap the top to work the mix around the root system.
Lightly water and place in a warm, sunny location.
ONGOING PLANT CARE
Osmocote® Orchid Coarse Premium Potting Mix contains a balanced fertiliser but additional fertiliser may be required in time, depending on plant needs.
Plants should be watered immediately after potting and frequently enough to ensure the mix remains moist but not wet. Avoid allowing plants to dry out.
Plants should be divided and repotted with new potting mix when they outgrow the pot or after 2 years.
WHEN TO USE
Orchids are best repotted in mid Spring, or immediately after they have finished flowering
Avoid Winter or Summer as the extremes of temperature may stress plants
SAFETY TIPS
Always wear gloves when gardening.
If dusty, wear a particulate mask.
SAFETY INFORMATION
CAUTION: This product may cause staining of hard surfaces if wet. Avoid contact with hard surfaces and if contact does occur, sweep off immediately
When using potting mixes, we recommend the use of garden gloves to protect your hands
SAFETY FIRST: Read the instructions on the product packaging before use and take particular note of any warnings or cautions on the label 
See the Safety Data Sheet for this product
TECHNICAL DETAILS
Boosted levels of calcium (gypsum) assist in promoting strong, healthy plants capable of resisting diseases
Health and Safety
Always read the pack label and product instructions carefully before use. For further information relating to product safety please review the product data safety sheet link below.

Scotts Osmocote® Orchid Coarse Mix
10L (other sizes available)