Tomcat Live Catch Trap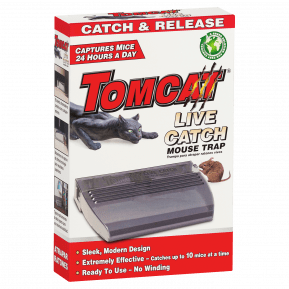 Tomcat Live Catch Trap
Captures Mice 24 Hours A Day
Sleek, Modern Design
Ready-To-Use
Extremely Effective — Catches Up To 10 Mice At A Time
Tomcat® Multi-Catch Mouse Trap incorporates ultra-modern styling to discretely blend into any surrounding. Its fail-proof trapping mechanism
catches up to 10 mice at a time, and no winding is required. The live catch feature allows mice to be released into remote locales, if desired. 
Place Tomcat ® Multi-Catch Mouse Trap along walls, making sure the entry holes are closest to the wall. Do not bait the trap.
When mice enter, they trip a highly sensitive trap door and are captured inside.
Monitor rodent activity by checking tinted viewing lid one to two times daily.
To remove mice simply slide the tinted lid off as shown
For effective catch and release, trap must be monitored at least twice a day as mice can quickly dehydrate. If multiple mice are captured empty immediately as mice are territorial.
Health and Safety
Always read the pack label and product instructions carefully before use. For further information relating to product safety please review the product data safety sheet link below.

Tomcat Live Catch Trap
EA (other sizes available)