Tomcat Mouse Snap Trap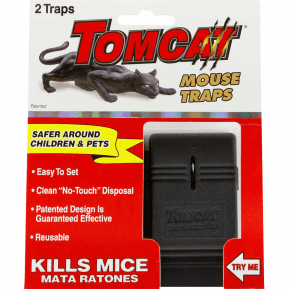 Tomcat Mouse Snap Trap
The Tomcat® Mouse Snap Traps is the pesticide-free, non-toxic way to control mice.
Easy to use and easy to set, this trap is safer around kids and pets versus conventional wooden traps.
You can rely on this reusable trap to effectively kill mice for clean and no-touch disposal.
Our patented design makes the Tomcat® Mouse Trap one of the safest, cleanest, easiest to use traps available today. 
Set trap by squeezing the back side as shown. While baiting isn't required, the use of Tomcat ® Attractant Gel is recommended. Place a small pencil eraser-sized amount of attractant onto the back of the yellow trigger.
Place trap perpendicular to walls or other objects in areas with evidence of mouse activity. For best results, place between a mouse's nesting place and food source.
For mouse disposal, just squeeze the back of the trap… your hands never touch the mouse. Now it's set and ready to be used again.
Health and Safety
Always read the pack label and product instructions carefully before use. For further information relating to product safety please review the product data safety sheet link below.

Tomcat Mouse Snap Trap
2PK (other sizes available)