Tomcat Rat & Mouse Bait Pellets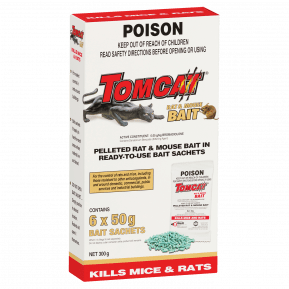 Tomcat Rat & Mouse Bait Pellets
Size: 6 x 50G Bait Sachets
Pelleted Rat & Mouse Bait in Ready-To-Use Bait Sachets

For rodent control in and around buildings 
Bait sachets fit easily in hard-to-reach areas where rodents live and breed
DO NOT OPEN BAIT SACHET ...

Simply position in desired location.
Rodents will open it themselves.
HOW TO USE
DO NOT exceed 3m between bait sachets for mice, or 9m for rats.
DO NOT place bait sachets in the open.
SITUATION 
PEST
RATE
CRITICAL COMMENTS

In and around domestic homes, industrial and commercial buildings, animal houses, farms, wharves, public service buildings, food factories, hosptials, inside
transport vehicles (including ships) and around grain terminals.

Rats (Rattus
norvegicus,
Rattus rattus)
1 to 5 bait
sachets per
5 m2
Eliminate as far as practicable, all alternative food sources. Bait infested area. Inspect bait stations
daily. Replace eaten baits. If eaten quickly increase
number of bait placements. Continue observation
and replenishment until no more baits are taken.
Baiting for at least two weeks is necessary to
reduce rat/mouse numbers.
Mice (Mus
musculus)
1 bait sachet per
2 m2
NOT TO BE USED FOR ANY PURPOSE, OR IN ANY MANNER, CONTRARY TO
THIS LABEL UNLESS AUTHORISED UNDER APPROPRIATE LEGISLATION.
GENERAL INSTRUCTIONS
Determine areas where rats and/or mice will most likely find and consume bait. Generally, these areas are along walls, by gnawed openings in or beside burrows, in corners and concealed places between floors and walls or in locations where rodents or their signs have been observed. Protect bait from rain or moisture. Replace contaminated or spoiled bait immediately. To prevent reinfestation, eliminate food, water and harbourage as much as possible. If reinfestation should occur, repeat treatment. Where a continuous source of reinfestation is present, establish permanent bait stations and replenish bait as needed. Collect and dispose of all dead rodents and unconsumed bait properly. Baiting for at least two weeks is necessary to reduce rat/mouse numbers.
PRECAUTION
The use of this product for the control of protected native rodents requires permission from wildlife authorities.
DO NOT allow bait to contaminate foodstuffs or food intended for human or animal consumption.
DO NOT apply bait to crops.
DO NOT place in positions where there is a possibility of contaminating food or surfaces that come into direct contact with food. The product is restricted to use in and around buildings (within 2 metres) or enclosed spaces.
PROTECTION OF WILDLIFE, FISH, CRUSTACEA AND ENVIRONMENT
DO NOT contaminate dams, rivers or streams with the chemical or used container. Place baits in locations which are inaccessible to other animals and birds. This product is hazardous to pigs, cats, dogs, native wildlife and poultry.
STORAGE AND DISPOSAL
Store in the closed, original container in a well ventilated area, as cool as possible. DO NOT store for prolonged periods in direct sunlight. Store in locked room or place away from children, animals, food and feedstuffs, seed and fertilizers. Do not dispose of chemicals on site. Puncture or shred and bury empty containers in a local authority landfill. If not available, bury the containers below 500mm in a disposal pit specially marked and set up for this purpose clear of waterways, desireable vegetation and tree roots. Empty containers and product should not be burned. Dispose of carcasses safely by burying and burning in an approved landfill.
SAFETY DIRECTIONS
Poisonous if swallowed. Do not inhale dust. Repeated minor exposure may have a cumulative poisoning effect. Avoid contact with eyes and skin. DO NOT touch bait. If on skin and after each baiting, wash thoroughly with soap and water. Vitamin K1 (Phytomenadione) is antidotal.
FIRST AID
If poisoning occurs, contact a doctor or the Poisons Information Centre (phone Australia 131126; New Zealand 0800 764 766).
 
MSDS
For further information please refer to the Material Safety Data Sheet which can be obtained from the supplier.
 
CONDITIONS OF SALE
The use of TOMCAT Rat and Mouse Bait is beyond the control of the manufacturer. Therefore, no warranty, expressed or implied is given by Bell Laboratories, Inc. regarding its suitability or efficacy for any purpose. Bell Laboratories, Inc. cannot accept any responsibility for any consequence whatsoever resulting from the use of this product, save for those nonexcludable conditions implied by the Competition and Consumer Act of 2010. those nonexcludable conditions implied by the Competition and Consumer Act 2010.
POISON: Keep out of reach of children.

Read Safety Directions before opening or using.
Health and Safety
Always read the pack label and product instructions carefully before use. For further information relating to product safety please review the product data safety sheet link below.

Tomcat Rat & Mouse Bait Pellets
6 x 50G Bait Sachets (other sizes available)