Tomcat Rat Snap Trap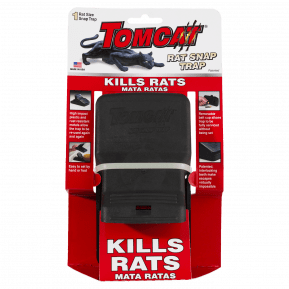 Tomcat Rat Snap Trap
High impact plastic and rust resistant metals allow the trap to be re-used again and again
Easy to set by hand or foot
Removable bait cup allows trap to be fully serviced without being set
Patented, interlocking teeth make escapes virtually impossible
Tomcat® Rat Trap is the most advanced rat trap design available today. It combines aggressive capture and holding capabilities with a host
of user-friendly features… making it ideal for home and farm use.
Place food (such as peanut butter) or Tomcat ® Attractant Gel into cup and re-insert into trap.
Carefully set trap by compressing the top portion (containing ridges) to the bottom until it clicks into position. This can be done by hand or foot.
Position trap perpendicular to a wall or other structure where rats are known to travel.
CAUTION
WHEN ACTIVATED, TRAP CAN CAUSE SERIOUS PHYSICAL INJURY REQUIRING MEDICAL ATTENTION TAKE CARE WHEN HANDLING AND
KEEP OUT OF REACH OF CHILDREN & PETS
Health and Safety
Always read the pack label and product instructions carefully before use. For further information relating to product safety please review the product data safety sheet link below.
Tomcat Rat Snap Trap
EA (other sizes available)