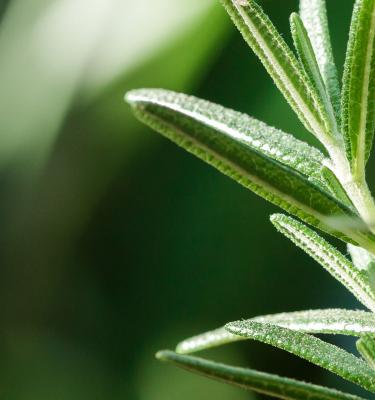 How to grow rosemary
Rosemary is a hardy, evergreen shrub loved for its highly fragrant foliage. Like the climate in the Mediterranean where it originates from, rosemary loves to grow in areas with hot dry summers, and mild winters. Rosemary can struggle to thrive in subtropical and tropical climates because of the high rainfall and humidity. 
When to grow
Plant – January to December
Harvest – January to December
Varieties to grow
Rosemary bushes can grow up to 1-2m tall, but there are more compact varieties and even ones with a prostrate growth habit - that looks amazing spilling over the side of garden beds or rockeries. Tiny flowers in blue, white or even pink appear all over rosemary plants from late winter and continue throughout summer. These nectar and pollen-rich flowers are a magnet for bees, especially in spring. 
Upright Rosemary such as 'Tuscan Blue', is best for culinary use. 
Trailing 'Prostrata' is a hardy ground cover with bright blue flowers in summer. 
'Chefs Choice' is a compact growing slightly trailing rosemary which is perfect for cooking. 
For something different, 'Majorca Pink' is an upright growing light green foliage pink flowered rosemary.
Grow your plant
Rosemary is not typically grown from seeds as germination is very slow. Although it can easily and quickly be grown from cuttings using the following tips. 
Growing from cuttings
Rosemary strikes easily from cuttings.
Step 1
Take semi-hardwood tip cuttings around 10-15cm long from an established rosemary bush - ideally in spring or summer.
Step 2
Remove the lower leaves, make a clean cut and either place the cuttings in a glass of water on a sunny windowsill to develop roots or place into pots filled with Scotts Osmocote® Seed Raising & Cutting Mix. You can dip the end into rooting hormone to help stimulate root development before placing in mix, but this is not essential.
Step 3 
Leave the glass or pot in a warm and sunny spot, and keep the soil moist while roots establish. Once new leaf growth and roots are visible on the cuttings they can be transplanted into larger pots or your garden.
Planting in the garden
Step 1
Choose a spot that receives at least 6 hours of sun each day and make sure the soil is free-draining. 
Step 2
Dig the hole twice as wide as the original pot and at the same depth. Mix some Scotts Osmocote® Compost & Soil Improver and a handful of Scotts Sheep Pellets into the planting hole.
Step 3
Place the plant in the planting hole and back fill around the plant, firming in as you go, and water well.
As the mature height and width of rosemary plants will vary between varieties, always follow the recommended spacings on the label. 
Tips
Rosemary hates waterlogged soil, so if you have heavy clay soils growing in a pot or a raised bed is a great option. 
Although rosemary can tolerate drier soil, plants will appreciate deep watering in extremely dry and hot periods. 
In summer add a light layer of mulch around rosemary plants to retain moisture.
Planting in pots
Step 1
Select a pot with plenty of drainage holes a minimum of 30cm deep by the same width.
Step 2
Part fill the pot with Scotts Osmocote® Premium Potting Mix.
Step 3
Remove the rosemary plant from its nursery pot and tease the roots if needed. Plant into the prepared potting mix and fill until 3cm from the top of the container, firming as you go. Water in well.
Tip
In summer add a light layer of open organic mulch to retain moisture during the drier months.
Plant care
After flowering prune rosemary plants to shape them if you'd like. Use hedging shears to give the plant an overall cut back by no more than a quarter. If you cut too hard into the old growth with no foliage on it you may kill the plant. 
Rosemary doesn't need a lot of fertiliser, but will benefit from a dose of  controlled release vegetable fertiliser like Scotts Osmocote® Controlled Release Fertiliser: Tomato, Vegetable & Herb in the spring and a handful of Scotts Sheep Pellets in spring and autumn to condition the soil.
Harvesting
Harvest rosemary 'sprigs' or stems when you need them - cutting them off using sharp scissors or secateurs. Regular harvesting will help keep the plant compact and neat. 
Pests & Diseases
Given the right growing conditions and good air circulation Rosemary is relatively pest and disease free. The biggest problems may occur if the plants don't have enough sunlight, the soil is waterlogged or the climate is too humid. 
Make sure rosemary is grown in areas with good drainage and full sun. Making sure the plants have good airflow around them and avoiding overhead watering can help reduce the risk of fungal problems caused by high humidity.