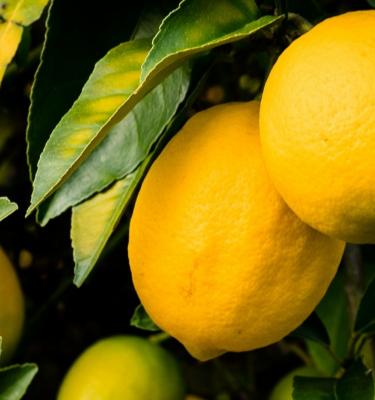 7 Most Common Citrus Pests & Diseases
From Oranges and Lemons to Grapefruit and Aussie Native Finger Limes, there's a lot to love about growing your own citrus trees. However, when bugs, pests and diseases start to take over, our homegrown citrus trees can suffer. To get them back on track and stronger than ever, learn what common citrus pests and diseases to look out for and how to treat them below.
Lemon Tree Gall Wasp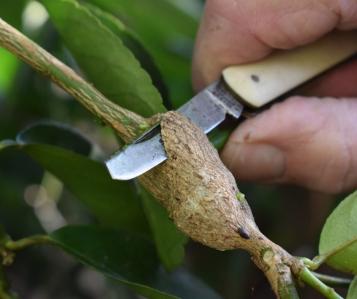 Lemon tree gall asp adults lay their eggs under the bark on the soft, new shoots of most types of citrus trees. The unsightly, woody galls form around the larvae when they hatch from the eggs. The larvae pupate within the galls and the adults emerge through small holes in spring, to go on to infect more shoots.
Galls start to appear from late Autumn, but removing an abundance of galls in Winter may encourage a strong flush of new growth in early to mid-Spring, just as adult wasps are emerging on neglected or unmonitored trees and looking for soft shoots in which to lay their eggs.
The recommended treatment is to use a sharp knife or even the humble potato peeler to slice through as many galls as you can, to expose and kill the developing larvae. Dispose of gall material by wrapping in plastic and placing it in the garbage bin.
Sooty Mould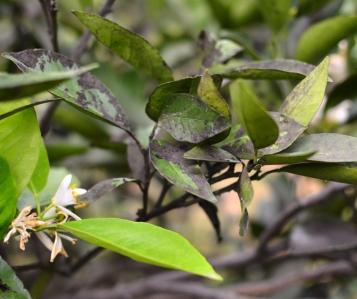 This mould grows on the sticky honey-dew secretions of insects, including some scale and aphids. Eradicate the pests and the mould will disappear without requiring treatment. It is a black fungus usually found on the undersides of leaves and along stems of new growth where these insects tend to congregate.
Crown Rot
This disease occurs around the graft union of the plant, a point of weakness where fungal infections can occur if the graft is damaged or too close to the soil and too moist. It is best treated with a fungicidal poultice.
Scale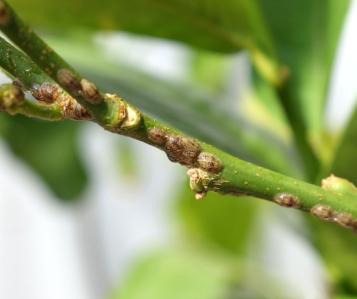 Scale insects, of which there are two main types – hard scale and soft scale (which are the secretors of honey dew), are generally found on the undersides of leaves and soft growth. What you see is a shell-like covering (the scale) over a small, sap-sucking insect. Sapsuckers in vast populations can cause severe damage, even the death of plants. They can be scraped off with a thumbnail, but the best control is with a horticultural, pest or eco oil, which smothers the pest.
Citrus Leafminer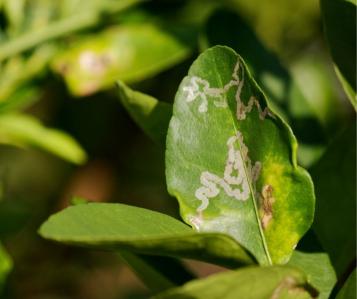 This small insect 'mines' or tunnels through leaves just under the outer skin, causing distorted and curly leaves on lemon trees, orange trees, and other types of citrus trees, as well as tell-take squiggly lines. The pest, present from around the end of December through to April, is a small nocturnal moth that lays eggs on the undersides of soft new leaves. These hatch into tiny grubs that burrow into and then move through the leaves. Applications of horticultural pest oil or eco oil every 3 weeks or so over this period will control the pest but will not fix any damage already caused.
Aphids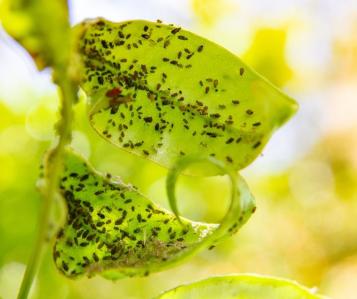 Like scale, aphids are also sapsuckers and can cause severe distortion if not controlled. They attack new leaves and stems and secrete honey dew which, in turn, attracts ants and may result in sooty mould. Spraying populations with Defender Pyrethrum will usually control them.
Fruit Fly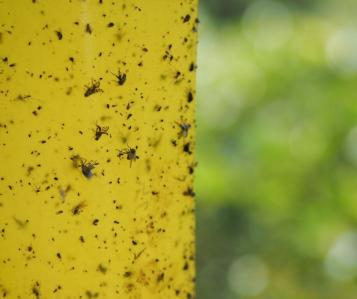 This pest is now becoming increasingly common as far south as Victoria, but the main areas of concern are warmer, more humid regions of NSW and QLD. Fruit Fly will lay eggs in fruits as they ripen, so it is important to collect and dispose of all citrus fruit, including those that have fallen to the ground. Yellow sticky traps and liquid lure traps that entice fruit flies into them are the best forms of crop protection.
Did you know that a healthy and well-fed citrus tree is less prone to pests and diseases? So, to ensure your citrus trees are productive, strong and healthy, feed them with Scotts Osmocote Controlled Release Fertiliser for Fruit & Citrus.