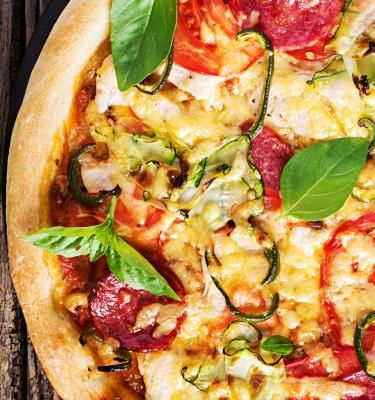 How to Grow Your Own Pizza Pots
Follow Melissa King's easy steps on how to create your own pizza pot at home
If your kids (or you) like pizza, then growing your own toppings is a must!
It's a fun potted project for pizza enthusiasts of all ages and suitable for gardens of all sizes, including balcony gardens.
Here's what you'll need
A family of matching outdoor pots in various sizes
A mix of your favourite pizza herbs and vegetable seedlings
Gardening Gloves
A Trowel
Tasty herbs & veggie varieties to grow
Mini Lebanese Eggplant - Produces small black oblong shaped fruit that's extra tasty chargrilled or on top of woodfire pizza.
Tomato 'Tommy Toe' -  You'll get lots of sweet cherry-style tomatoes. Pop them straight into your mouth, but don't forget to save some for the pizza!
Thyme - A lovely savoury flavoured herb that pairs perfectly with tomato and mozzarella.
Basil - Did somebody say Margarita pizzas?! This is a topping you cannot go without!
Rosemary - Teams well with garlic and potato topped pizzas.
Capsicum - A great addition with salami and to make the ultimate vegetarian pizza.
Steps for creating a pizza pot
Veggies and herbs love lots of sunshine, so find a sunny spot for your pots to live.
Fill the pots almost to the top with a quality potting mix. Don't forget to wear your gardening gloves.
Get planting! The bigger the pots you choose, the more you can grow in them. Read the back of the plant labels to see how far apart you should plant your veggie or herb seedlings and make sure that you give them enough room to grow.
Water your seedlings well and give them a capful of Scotts Osmocote Pour+Feed. This will provide your veggies and herbs with everything they need to grow strong and healthy and produce plenty! For best results, apply it every 2 weeks.
Tips for caring for your pizza pots
Keep an eye out for pesky slugs and snails - you don't want them eating your herbs and veggies before you do.
Why not make your own potted garden signs! You can re-use old wooden spoons and with a waterproof marker and colourful paint decorate your sign. Upcycling plastic plates, old ice cream lids, icy pole sticks or even rocks can also make for great signs. 
Watch your veggies grow - measure how much bigger they get from week to week. You may even like to keep a diary and have a go at drawing their growth!
Water and Pour+Feed your potted patch regularly and you'll be rewarded with a big crop of tasty pizza toppings. When they're ready to harvest you should host your own pizza party!
Melissa King Makes Pizza Pots