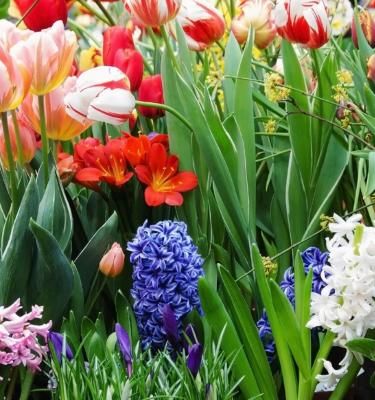 Melissa King's Top 5 Ways to Display Bulbs
By Melissa King
With so many varieties of bulbs out there, it's easy to get overwhelmed or carried away! To help get you started and inspired, Melissa King shares her top five looks for planting beautiful bulbs at home.
The Woodland Look
Some bulbs, such as Daffodils, Bluebells, Muscari, Snowflakes, Sparaxis, Ixias, Freesias, Lachenalias and Tritonias, naturalise particularly well and look wonderful planted in drifts beneath deciduous trees and shrubs. Leave them to multiply each year to form a flowering carpet of colour.
Melissa's Top Tip: You can create lovely drifts by scattering the bulbs and planting them where they fall.
Bulbs in Grass
Some Bulbs grow naturally in meadows among grasses and other plants, so they are a great choice for creating a meadow or cottage-core look in a paddock or grassy area around your home.
Daffodils look wonderful sprinkled in wild grassy areas. So do Snake's Head Fritillaria, Snowflakes, Tritonias, Ixias and some Crocuses.
Big Bold Groups
Bulbs often look best planted together in big clumps, where their colour and form have the greatest impact. Combine bulbs with bold colours like red and yellow Tulips for a dramatic look or make a statement with solid blocks of colour.
The Mixed Border
Tuck small groups of bulbs among perennials and shrubs in the mixed border for splashes of seasonal colour. Winter-Spring flowering bulbs make lovely companions to Summer flowering perennials because they put on a show while the perennials are looking drab, then as the bulbs start to die down the perennials come to life and hide the bulb's fading foliage.
Bulbs In Pots
Bring colour and fragrance to your patio or balcony with potted bulbs. Smaller growing bulbs such as Spring Starflowers, Grape Hyacinths (Muscari) and Mini Daffodils are tailor made for growing in containers. Larger bulbs, like Daffodils, grow well in pots during the first season, but you may need to plant them in the garden the following year to rejuvenate.
Why not team Spring flowering bulbs in pots with pretty annuals such as Lobelia, Violas, Alyssum and primulas, which are in flower at a similar time? Once your bulbs have finished flowering, pots can be moved out of the way to hide the dying foliage.
For outstanding growth and flowering, use Scotts Osmocote Premium Plus Superior Potting Mix.
Melissa's Top Tip: Why not plant a range of bulb varieties in "layers" in deeper pots to create a lasting succession of colour.
---
If you're new to planting bulbs, or looking for more tips and tricks from Melissa King, check out her Bulb Planting Guide.