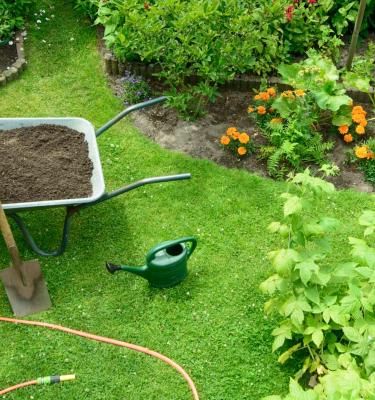 Top 10 tips to create a beautiful garden
You've looked at the blank canvas in the backyard long enough but how do you transform it into the garden of your dreams?
Creating a garden may seem overwhelming but it is easier than you think.
Here are our 'Top 10' tips and tricks to get you started, including:
Deciding on a style
Fashion or function?
Getting 'arty'
Our top 10
Creating your own garden from scratch is exciting, if not a little daunting.
Time spent planning and thinking about how you and your family want to use this space will ensure you end up a garden that meets your needs.
What kind of garden would you like?
Visit some 'Open Gardens' or drive around your neighbourhood for inspiration.
Decide on a style you like and suits your home. A garden can add valuable $$ to your selling price if it compliments your home.
What sort of atmosphere do you want to create - a Bali-inspired resort garden around the pool or an English country garden for afternoon tea?
---
While a beautiful garden is glorious, the space you have is valuable and it should meet the needs of you and your family.It should be functional but it can also be fashionable, depending on how you 'style' the essentials.
Make sure you have:
Room for a clothes line.
Lawn for the kids.
A relaxed seating and dining area.
A veggie or herb garden.
Privacy.
The time to care for it – some gardens require more maintenance than others.
Decide how much time you have available or want to spend on the garden.
---
3. Draw a 'napkin sketch'
You don't have to be an architect to draw up a rough plan.
It will help you picture the final layout of your garden.
Start by drawing up your yard.
Make a list of the critical features (functional elements), and position these first.
Use garden beds and paths to link the elements. Make sure these are wide enough to achieve the look you want.
List the plants or ideas you have for each bed (this could be knee-high white flower hedge with purple flowers to one metre high behind).
Mark North on your plan. This will be critical when it comes to choosing the right plants.
---
4. A picture's worth a thousand words
Take photos of the plants you like and the look you wish to achieve, then visit a local nursery or garden centre with your plan.
The staff should be able to advise you if the plants you like will fit in the position and area you have chosen - or they may suggest something similar that would work better.
---
Individual plants may look appealing but they don't have the impact of a large group.
Mass planting (planting in groups of three or five - ALWAYS an odd number!) is a great way for new gardeners to create maximum impact with only a few different plants. It's also currently in vogue in stylish gardens.
---
Flowers are lovely but between flowering seasons it's the variations in foliage that keep your garden looking stunning.
Look for different colours, shapes and styles of leaves. Try colour co-ordinating plants in groups or swathes to create a picture that will shine all year round.
---
Flowers are just one way of celebrating the seasons. They are colourful and often fragrant but there are other ways to introduce seasonal interest.
Try to think of the colours you already have in your garden, and choose flower colours to suit.
Other plants produce fruits, berries, coloured foliage or vibrant stems.
Make a point of looking at other gardens throughout the year, and adapt some of the ideas you've seen for your own garden, to capture the best of each season.
---
Sculptures, collectables and old wares add personality to your garden. They can be used as a focal point or as a gap filler between seasons.
Don't forget laser-cut metal or timber screens and wall panels and the like to add a touch of glamour to otherwise blank and unappealing walls or fences.
---
Whether it's a bowl of water, a pond or a fountain, water adds life, movement and interest to the garden. The gentle sound of a fountain can be soothing and will help blank out external noise.
Spend some time looking for the right water feature for your garden.
Many now available at garden centres are lightweight and come with a low voltage submersible pump included. They are easy to install and create a lovely atmosphere in the garden.
---
10. Pre-planting checklist
Using your napkin plan as a guide, mark out the entire garden using a spot marker (paint spray).
Check that everything you want will fit, the garden flows well and you have enough room for plants.
Watch the sun travel across your garden during the day, so you can maximise its impact in the garden.
All the 'hard landscaping' like paths and paved surfaces should be completed first, before moving to the garden beds. This will minimise potential damage to your new plants.
When ready, dig up the garden beds and improve the soil before you begin planting.