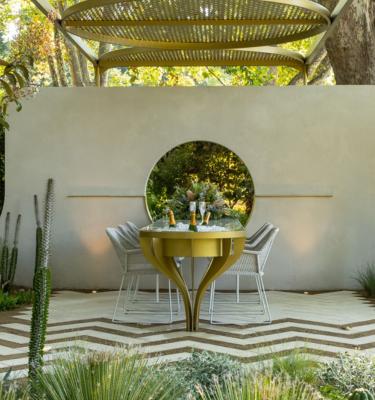 6 Melbourne Flower Show 2023 Plant & Garden Trends To Try At Home
If you're looking for the latest trends in plants and landscape design...
Take inspiration from the 2023 Melbourne International Flower & Garden Show, where the biggest names in garden design compete for the coveted show medals.
The Melbourne International Flower & Garden Show has been held annually since 1995 and is the largest horticultural show in the Southern Hemisphere. Attracting over 110,000 visitors every year, it is rated amongst the best flower and garden shows in the world with its world-class gardens.
Explore our Top 6 Trends from 2023 Melbourne Flower Show below!
#1
There's No Place Like Home
Aussie Natives
The parade of Aussie beauties at this year's show proved once again that native plants aren't just tough, they are beautiful too!
With newer, more compact forms and a better understanding of how to maintain them, Australian plants are no longer confined to bush-style gardens and have a welcomed place in modern design. 
Also, many Australian Natives don't just withstand tough conditions, they flourish in them! Making them the perfect choice for an easy-care garden.
The iconic Kangaroo Paw took centre stage in show gardens big and small and for good reason! It puts on a spectacular show, with masses of furry, paw-like flowers that come in all shades of yellow, orange, red, green, burgundy and even white. Plant Kangaroo Paws in sunny pots or garden beds with well-drained soil and the native birds will come flocking.
#2
Now That I've Got Your Attention
Eye Catching Lawn & Groundcovers
This year's displays proved that lawns can be much more than practical! With the right choice of turf and a bit of creativity, it can be a real showpiece in your garden.
The star of the show was Sir Grange 'Zoysia', a dark green, finely bladed grass that was shaped into mounds and curves to form living lounges that encourage you to lie down and just breathe. Sir Grange is tough and dry tolerant once established and able to withstand harsh Aussie conditions.
Lawn was also used to create nifty turf seats, which are easy to re-create at home! Simply fill squat pots with roughly 80% sand and 20% lawn soil and top them with instant turf.
You can also use other low-growing or mat-forming plants that bounce back. Designers turned to Dichondra, a great lawn alternative, to soften pavers and walkways.
#3
Blended, Not Stirred
Blending Plants
Many of the gardens also made use of exciting colours and textures to create pretty picturesque landscapes. Designers showed us that with clever planting and the right choice of plants, you can create a garden that looks good year-round!
Here's how to create a blended plant look at home:
Choose plants that flower for a long period.
Look for plants that have more than one season's worth of interest eg. Summer flowers followed by berries or decorative seed heads.
Incorporate evergreen plants, which hold their own throughout the year.
Choose plants that have something to offer in different seasons, so that there is colour and interest throughout the year.
Add bulbs and annuals for splashes of seasonal colour
Think beyond flowers to texture, colour and form
Design with all of your senses in mind
#4
Fantastic Foliage
Autumn Colours
The trend for colour shows no sign of stopping with many gardens embracing the kaleidoscope shades of autumn foliage!
One of the most sought-after trees was Acer 'Crimson Sentry' which featured in multiple show gardens. It is beloved for its stunning purple-red foliage and dense upright habit, which makes it a perfect addition for narrower areas.
Smaller growing Japanese Maples were also on display, teamed with beautiful Asian-style plants like Japanese anemones and dwarf nandinas.
From flame reds to deep plums, vivid purple, gold and burnt orange hues, fill your vases at home with striking autumn foliage to make a fantastic statement! Discover more Cut Flower Garden ideas here. 
#5
A Desert Dream
Cacti & Succulents
The use of cacti and succulents in design continues to trend and this year's displays showed us that landscaping with dry-loving plants isn't just an eco-friendly decision, you can also create beautiful, stylish gardens.
Take inspiration from Mint Landscape Design's 'Aurum' show garden and create a glamorous design where succulents and cacti take centre stage. Combine them with other arid, Mediterranean or native plants and top with gravel mulch and the result is a garden that is innovative and climate-conscious.
Use plants with bold sculptural forms like Agaves and Yuccas alongside the softer texture of grasses like Poas and strappy leaved Lomandras and make a feature of large cylindrical cactus or dry loving Tree Aloes, which create living sculptures.
#6
Endless Summer
Late Summer Perennials
Late perennials were a big hit at the show, highlighting that autumn flower colour isn't just a trend but an essential element in a garden to be enjoyed for all seasons.
Beautiful Salvias and Agastache are top of mind for bridging the gap between late summer and autumn, with vibrant blooms that make a real statement in the flower border and boast a long flowering season to enjoy.
Rudbeckias are another stunning choice for extending colour, with bright yellow daisies that bring a burst of sunshine to gardens of any size. Taller growing Rudbeckias like 'Indian Summer' is perfect for the back of the border or you might prefer more compact growing forms like Rudbeckia 'American Goldrush', which grows just 45-60 cm tall.
Take a leaf out of the show designer's book and combine late-flowering perennials with swathes of grasses to create a natural look.