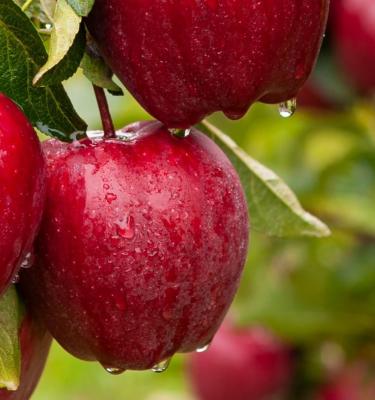 How to grow & care for apple trees
Apple trees love a garden with cool winters, but if you choose the right variety (with 'low chill' requirements), you can also grow apples in warm and sub-tropical regions of Australia.
Apple trees are long-lived and productive, depending on the variety, your apple tree can reach up to 4 metres tall and 2-4 metres wide. For small spaces or to grow in large pots look for dwarf or grafted apple varieties that will grow to 2.5 metres.
Apples are deciduous trees, losing their leaves in winter and blossoming in spring, with fruit developing over summer - ready for harvest from mid-summer to early winter.
Some varieties of apple will need a second tree for pollination, but if you don't have the space for 2 trees look for a self-fertile (or self-pollinating) variety - there are many to choose from!
5 Key Steps to Growing Apples
Choose a full sun position in your garden or grow a dwarf variety in a large pot.
Look for a self-fertile variety unless you have the space for 2 or more trees.
Netting apple trees is essential to protect your crop from birds.
Apples are ready to harvest mid-summer or winter depending on the variety.
Research the best apple varieties for your climate, some varieties will tolerate warmer winters while others need a certain number of days below 8°C before they'll fruit.
How to Prepare
Apple trees prefer a full sun spot in well-drained soil, that's protected from high winds. They will require regular watering or irrigation when fruiting - so make sure they are either on an irrigation system or close to a tap for easy watering.
Prepare the soil for planting by digging a hole that's twice as wide as the root ball of your tree and at the same depth. Loosen the soil at the bottom of the hole and mix Scotts Performance Naturals Soil Improver through the original soil.
How to Plant
Planting apple trees in ground
Bare-rooted apple trees can be purchased and planted in winter when the tree is dormant. Potting apples can be planted at any time in ground, except in the heat of summer.
Plant your apple tree at the same depth it was in the pot or if bare-rooted, make sure any graft on the truck is well above the soil surface.
Add a stake to support bare-rooted trees at planting - this can be removed once the roots have taken.
Firm down the soil around the roots of your newly planted apple tree and water it well.
Top dress around the tree with an organic mulch (but avoid putting it close to the trunk) to suppress weeds and retain moisture.
Planting in pots
You can grow apple trees in large pots or containers so long as they have good drainage. An old wine barrel with drainage holes added is an ideal size.
Espaliered apple trees are fantastic space savers and grow well in pots or narrow garden planters. You can either purchase an established espaliered tree or train your young tree to grow flat along a trellis.
Fill your pot with a suitable potting mix like Scotts Performance Naturals Premium Potting Mix before planting.
Firm down the soil around your newly planted apple tree in the pot and water it in well to settle its roots in nicely.
Mulch the top of the soil in the pot to retain moisture and ensure the pot can be easily watered during the summer months.
How to Harvest
Apples are ready to harvest anywhere from January to June - depending on the variety you've planted and your climatic zone.
Apples are ready to pick when you can gently cup the fruit in your hand, twist it and it comes away from the branch easily with a gentle tug. The seeds inside a ripe apple will also be dark brown and of course, the flesh will be sweet, crisp and delicious.
You'll need to securely net your trees to protect the crop from hungry birds and other animals - including Queensland Fruit Fly. Once the baby apples are formed use a wildlife safe, 4mm hole or smaller white netting that's pulled tightly over the tree and secured around the truck or set up a frame structure over the tree so you can easily place the net over this.
Prune apple trees after harvesting to keep their shape and to a manageable height. Very tall trees will be hard to net from and you risk losing your crop to pests!
Established trees should be pruned in summer or early winter once the fruit has been harvested to an open vase shape and fertilised in spring and again in autumn with Scotts Performance Naturals Citrus & Fruit Organic Based Fertiliser.
Pests & Diseases
Aphids and caterpillars can be controlled with a spray of Defender Pyrethrum Insect Spray if needed.