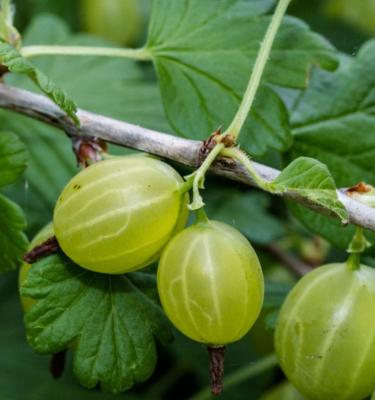 How to Grow & Care for Gooseberry Plants
Gooseberries (Ribes uva-crispa) are native to parts of Europe, but they'll happily grow in the cooler parts of southern Australia. Gooseberry plants love climates with cold and frosty winters - it's this cold that initiates them to fruit. So if you don't have cold winters, you won't successfully get any gooseberry fruit and you might like to consider Cape Gooseberries (Physallis peruvian) instead. 
Gooseberry plants are small growing shrubs (around 1 metre by 1 metre) that shed their leaves in winter. They prefer a moist, well composted soil and prefer a full sun spot - with some afternoon sun protection. Depending on the variety of gooseberry you've chosen, the fruit will be green, yellow, white, red or even purple when ready to harvest. If you don't fancy battling thorns as you go to harvest your gooseberries - look for a thornless variety! 
 
4 top tips for growing gooseberries 
Choose a full sun position in your garden or grow gooseberries in a large pot - if your summers are particularly hot, grow gooseberries in a spot with protection from the hot afternoon sun. 
Gooseberries need a climate with cold, even frosty, winters to produce fruit
Gooseberries do best in a moist, well prepared soil. Add plenty of compost or Scotts Osmocote Compost Premium Soil Improver before planting. 
If left to ripen on the bush, gooseberries will be sweeter, but they can be harvested before they are ripe when they are more tart and used for cooking and preserves. 
Essential shopping list for growing gooseberries
Prepare
You can buy bare-rooted gooseberry plants in winter or find potted plants throughout the year at your local nursery. They are best planted in milder weather, away from the extreme heat of summer. 
Gooseberries prefer a full sun spot in a moist and compost rich soil. Prepare the soil for planting by digging a hole that's twice as wide as the root ball of your plant and the same depth. 
Loosen the soil at the bottom of the hole and mix Scotts Osmocote Compost Premium Soil Improver and Scotts Osmocote Plus Organics Citrus & Fruit Plant Food & Soil Improver through the original soil. 
Planting gooseberry plants in the garden
Gooseberries are best purchased and planted in winter when the shrub will be dormant.
Plant your gooseberry at the same depth it was in the pot into your prepared soil. Firm down the soil around the roots of your newly planted gooseberry and water it in well. Top dress around the shrub with an open organic mulch to suppress weeds, retain moisture and keep the roots cool. 
Planting gooseberry plants in pots
You can grow gooseberries in large pots or containers so long as they have good drainage - choose a pot that's at least 50cm wide by the same depth. Fill your pot with a premium potting mix like Scotts Osmocote Citrus & Fruit Potting Mix before planting your gooseberry into it. 
 
Firm down the potting mix around your new plant in the pot and water it in well to settle its roots in nicely. 
 
Mulch the top of the potting mix to retain moisture and ensure the pot can be easily watered during the summer months. 
Harvesting gooseberry plants
Typically gooseberries are harvested anywhere from late spring to late summer depending on the variety you've chosen. If you wait until the gooseberries are slightly soft and completely ripe before harvesting them - they'll be beautifully sweet. However if you want to use your gooseberries for cooking, jams or preserves they are best picked when slightly under ripe and still tart. 
Birds and wildlife often leave the green fruit of gooseberries alone - but if anything develops a taste for them as they ripen you may need to securely net your gooseberry to protect the crop. Once the gooseberry fruit are formed use a wildlife safe, 4mm hole or smaller white netting that's pulled tightly over the plant and secured around the truck or set up a frame structure over the tree so you can easily place the net over this.  
Common gooseberry plant pests, diseases and general care advice
Gooseberries should be pruned in winter when dormant to an open vase shape. After the first fruiting season cut back the bush to 3-4 main stems that you shorten by at least a half. The following winter leave 8-10 main stems that are cut back by at least half. Gooseberry fruit will grow on 1-3 year old wood. 
Fertilise gooseberry plants with Scotts Osmocote Plus Organics Citrus & Fruit Plant Food & Soil Improver in late winter and again at the end of summer. 
Aphids are the most likely pest insect to infest gooseberry plants, spray the plant with Defender Pyrethrum Insect Spray if needed to control them. 
Watch for Queensland Fruit Fly infestations with monitor traps and by regularly cutting into your gooseberries fruit to check for maggots. If you find fruit flies, use bait and wildlife safe insect exclusion netting to protect your gooseberry crop from further attack. Always pick up any fruit that falls to the ground and dispose of it.