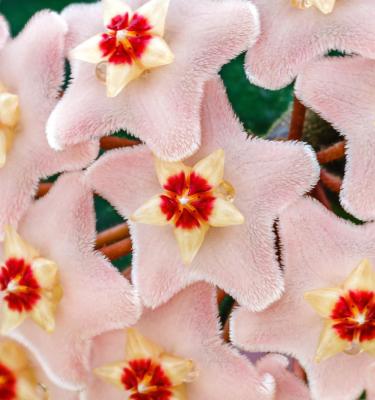 How to grow & care for hoya
Hoya, also known as wax flower, are evergreen vines (or sometimes shrubs or succulent plants) with fragrant flowers in spring and summer. Hoyas flowers are a distinctive star shaped and sweetly fragrant. Many hoyas are native to the tropical and subtropical rainforests of Australia. 
If you live in a warm, tropical climate, hoya can be grown outdoors in a part-shade, sheltered position. Cooler climate gardeners should try hoya as indoor plants instead - giving them a warm, bright spot with indirect sunlight inside. 
Top 5 steps to growing hoya 
Hoya are most at home to tropical and subtropical climates, if you live in a cooler region try growing them as an indoor plant or in a warm, sheltered spot outdoors. 
Hoyas are generally climbing vines that will need some form of support or grow them in hanging baskets. Some hoya do have shrub or succulent growth habits. 
Hoyas will benefit from a humid environment, mist them with water regularly.
If growing hoya in pots, create the ideal potting mix by mixing together 50% Scotts Osmocote® Orchid Premium Potting Mix and 50% Scotts Osmocote® Premium Potting Mix for Indoor Plants.
Fertilise hoyas using a Scotts Osomote Orchid fertiliser to encourage flowers. Choose Scotts Osmocote® Mist+Feed for Orchids or Scotts Osmocote® Controlled Release Fertiliser: Orchid or use a combination of both. 
Shopping List
A hoya plant
Garden trowel 
If growing in pots, you'll need:
suitable pot or container
 
Planting in the garden
Hoyas should only be planted outdoors, in the ground in tropical or subtropical climates. Hoyas prefer a filtered sun position with a free draining soil - planting them at the base of trees they can climb up is ideal. If your soil is prone to waterlogging or isn't free draining, plant your hoya on a raised mound or choose pots instead. 
Dig the planting hole for your hoya and remove it from the nursery pot - avoid disturbing the roots as they don't like this. Position the plant into the centre of the planting hole and backfill around the root ball carefully. 
Water in well and keep the soil around your hoya moist, but never soggy.
Planting in pots
A potted hoya can be moved into a warm glasshouse or indoors when the weather is cooler or kept permanently as an indoor plant in a bright but indirect sun spot. 
 
Hoyas actually like to be pot bound, so choose a pot with plenty of drainage holes that is the same size as the nursery pot or slightly bigger. 
Fill your pot or planter with a mix made by combining 50% Scotts Osmocote® Orchid Premium Potting Mix and 50% Scotts Osmocote® Premium Potting Mix for Indoor Plants. 
Gently remove the hoya from the nursery pot and position it into the potting mix, backfill around the root ball gently as hoya don't like their roots disturbed. 
 
Water your new hoya in well and mist the leaves regularly to improve the humidity in dry climates.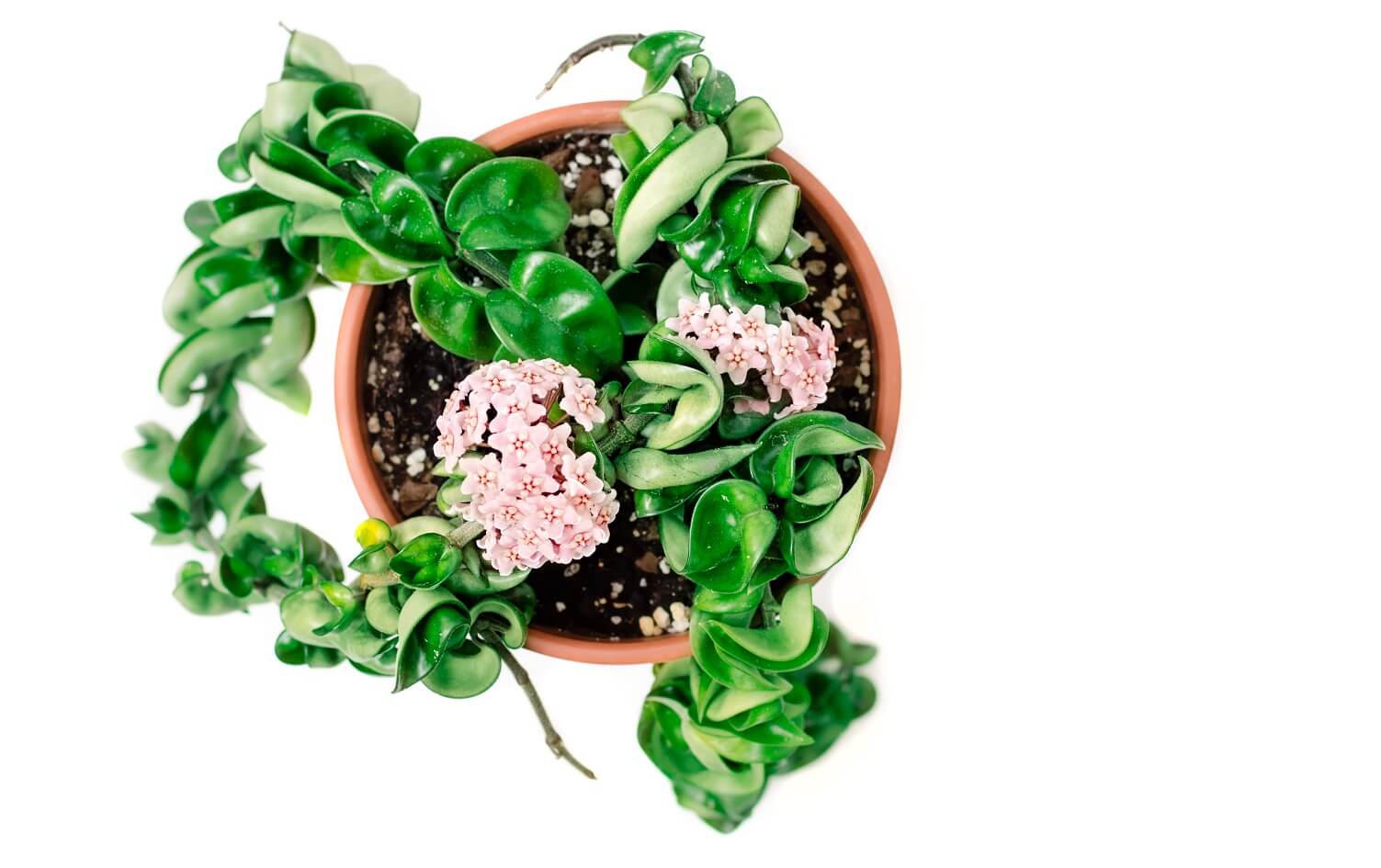 ​
Fertilising & Care
Keep the soil or potting mix your hoya is growing in moist, but never soggy. Make sure potted hoyas are sitting in water or that water isn't pooling at the bottom of cover pots or saucers. 
During very hot, dry weather they'll benefit from regular misting from a hose or irrigation system. 
Potted hoya can be foliar fed with Scotts Osmocote® Mist+Feed for Orchids applied fortnightly during spring and summer. And they'll also benefit from a spring application of Scotts Osmocote Controlled Release Fertiliser: Orchid for a sustained release of nutrients. 
 
In ground hoya should be fertilised in spring with Scotts Osmocote® Controlled Release Fertiliser: Orchid and for a further boost throughout the peak flowering season apply Scotts Osmocote® Pour+Feed Liquid Fertiliser once a month. 
 
Hoyas flower in spring and summer from the same spot or node each year, so don't prune off spent flowers once they've finished. 
Pests & Diseases
Aphids, mealybugs and scale can from time to time become a problem on hoyas, particularly on soft new growth. Use Defender™ Pyrethrum Insect Spray to control them if needed. 
If your hoyas leaves develop brown spots, make sure the soil or potting mix isn't soggy or overwatered. Reduce your watering or improve the soil drainage if needed.