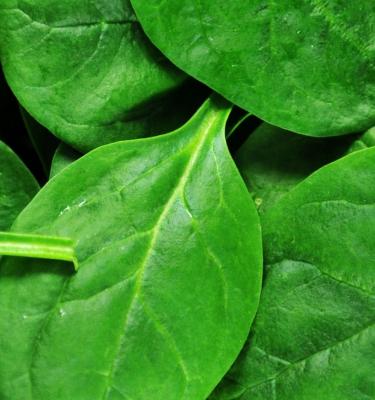 How to grow & care for spinach
Spinach is rich in iron, fibre and other essential vitamins and this easy to grow veg is ready to harvest, leaf by leaf, in just 6-8 weeks.
Spinach is a fast growing, leafy green vegetable that's perfect to grow throughout the cooler months of Autumn, Winter and early Spring.
If you live in a warmer climate or would prefer to grow a leafy spinach crop in the summer months, then consider more heat-tolerant spinach options such as New Zealand spinach (Tetragonia species) or the climbing Malabar spinach (Basella species).
Top 4 Steps to growing Spinach
Choose a full sun or part shade position in your garden or grow in a pot
Improve the soil before planting by adding Scotts Osmocote Compost Soil Improver
Protect spinach seedlings from pests like snails and slugs
Harvest leaf by leaf as you need them. English spinach can be eaten raw or cooked
Prepare
Spinach can be grown from seeds or seedlings in any of the cooler months and it's best grown in soil that's been enriched with Scotts Osmocote Compost Premium Soil Improver. If your soil is acidic, apply lime or dolomite lime to make the soil more neutral to slightly alkaline, which spinach loves.
If you're growing spinach in an area with warmer weather in spring choose a part shade location, protected from hot afternoon sun.
Planting in the garden
Plant seedlings 20-30cm apart and water them in well. Protect small seedlings from slugs and snails using Defender Snail & Slug Pellets.
Lightly mulch the soil around plants after planting with organic sugar cane to retain moisture. Spinach leaves will be more tender and flavourful if they are given regular water throughout the growing season.
 
Growing Spinach from seeds
Direct sow spinach seeds into your prepared garden beds or Scotts Osmocote Plus Organics Tomato, Vegetable & Herb Potting Mix if growing in pots. Sow seeds into 2cm deep furrows and cover lightly with soil. Don't worry if the seeds germinate too closely together - they can be thinned to allow 20-30cm between plants as they grow.
Keep the soil moist while the spinach seeds germinate which will take 10-14 days. Mulch around seedlings when they are 5-10cm tall to retain moisture and protect young seedlings from slugs and snails with Defender Snail & Slug Pellets.
 
Planting in pots
Spinach can be grown in medium to large pots that are 30-40cm deep. Fill the pot with Scotts Osmocote Plus Organics Tomato, Vegetable & Herb Potting Mix and sow seeds or seedlings at the recommended spacings as per the label. Protect young seedlings as they sprout from slugs and snails with Defender Snail & Slug Pellets.
Harvest
You can begin harvesting spinach leaf by leaf about 6 weeks after planting - harvest leaves by cutting or pulling them off at soil level - take care not to pull up the whole plant!
Young tender leaves that are 10-15cm long are delicious raw in salads, while larger leaves are perfect for cooking. Take care not to harvest too many leaves from any one plant, taking just a few from each plant will extend your harvest period.
Pests & Diseases
Slugs and Snails will cause significant damage to young spinach seedlings but they can also be problematic on larger plants too. Protect your spinach crop by setting beer traps (saucers filled with beer) or use Defender Snail & Slug Pellets.
To protect your spinach crops from possums or other animals use wildlife friendly white netting. Create tunnels or frames over your crops so that the netting can be pulled tight which will help prevent animals becoming tangled in it.