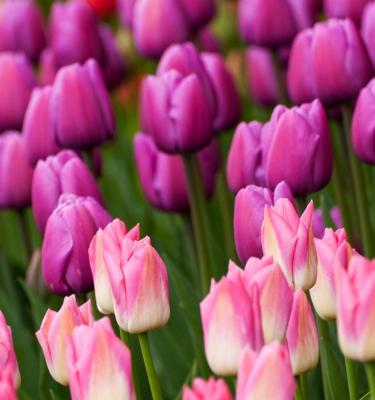 The Ultimate Guide to Growing Tulip Plants
Tulips are spring flowering bulbs that love climates with cooler winters. However, if your winters are milder in Australia, you can dig your tulip bulbs each year and put them into the fridge for 6 weeks before planting to mimic a nice cold winter! 
Tulip bulbs are best planted around Mother's Day when the soil temperature begins to cool and the cool winter nights are setting in. Tulips will naturalise in a garden with cool to cold winters - where they can be left in the ground to multiply and spread naturally. But if you do need to dig them out after they've finished flowering and the foliage has died down (to place them in the fridge for "winter"), many gardeners choose to grow them in pots. 
Tulips look their best when mass or drift planted - so don't just plant a single bulb! Clustering bulbs together either in pots or in planting in drifts around your garden will give maximum wow factor at flowering time. Tulips look particularly beautiful planted beneath deciduous trees that may not have yet woken from their winter dormancy in early spring when tulips are up and flowering. 
Top 5 steps for growing tulips 
Choose a full sun to semi-shade position in your garden or grow tulips in pots.
Tulips need a free draining soil that can be easily irrigated or watered during hot weather. 
Tulips make great cut flowers, regularly picking the blooms will encourage more to follow. 
Fertilise tulip plants with a fertiliser designed for flowering plants during their growing season to encourage lots of blooms. Look out for Scotts Osmocote Pour+Feed for Flowering Plants.
Watch out for slugs and snails attacking the young shoots of tulip plants as they emerge from the ground - sprinkle around Defender Slug and Snail Pellets to control them if needed. 
Essential shopping list for growing tulips
Prepare
You'll find dormant tulip bulbs for sale in autumn at your local nursery or garden centre - although it's best to store tulip bulbs in a cool place before planting them out in May (around Mother's Day). If you have very mild winters (warm temperate and sub-tropical regions) you'll need to cool store your tulip bulbs for 6 weeks before planting them out to give them the "winter chill factor" they need to initiate flowering. 
Tulips prefer a full sun to semi shade spot in a free draining, compost rich soil. Prepare the soil for planting by digging Scotts Osmocote Compost Premium Soil Improver through the top 10-20cm of soil before planting. 
If your soil is heavy or not free draining consider growing tulips in pots instead. 
Planting tulips in the garden
Plant tulip bulbs into prepared soil 2-3 times as deep as the bulb is tall with the pointy end of the bulb facing upwards. Allow 10-15cm between bulbs. Water sparingly until the sprouts appear above ground. Once the small shoots have emerged from the ground, you can apply a dose of fertiliser for flowering plants like Scotts Osmocote Pour+Feed for Flowering Plants.
Mulch around your tulip plants (once they've emerged from the ground) to retain moisture and suppress weeds. 
Planting tulips in pots
You can grow tulips in pots, just choose a pot that's at least 30-40cm deep and has plenty of drainage holes. In pots tulips can be planted closer together than in the ground and you can also layer them with other bulbs (look for bulbs that aren't planted as deeply as tulips) for a really full and colourful potted spring display. 
Fill your pot with a premium potting mix like Scotts Osmocote Premium Potting Mix before planting your tulip bulbs into it at the recommended depth. 
Water newly planted tulip bulbs sparingly until they emerge from the ground. Once new shoots appear fertilise them with an application of Scotts Osmocote Pour+Feed for Flowering Plants at the recommended rate.
Mulch the top of the potting mix to retain moisture and ensure the pot can be easily watered during the flowering season.  
 
Tulip care & fertilising
Fertilise your tulips fortnightly once the new shoots emerge with a liquid fertiliser like Scotts Osmocote Pour+Feed for Flowering Plants. Continue to fertilise as the plant dies back at the end of summer to help it store energy for the coming season. 
 
Harvesting tulip plants
Use sharp scissors or secateurs to harvest tulip flowers to make floral arrangements. Cut down low on each flower stem, close to the plant - this will encourage further blooms. 
Remove any dead flowers in the same way to encourage more flowers to follow. 
Allow the foliage to completely die back in late summer and dig your tulip bulbs up if needed or leave them to naturalise in your garden. 
Common tulip pests & diseases
The new shoots of tulips are susceptible from slug and snail attack. Use beer traps (saucers filled with beer placed on the soil surface) or sprinkle around Defender Slug and Snail Pellets to control these pests. 
Aphids can also infest the tender leaves and flower buds of tulips - if needed control them with Defender Pyrethrum Insect Spray.