Debco® Orchid Mix Coarse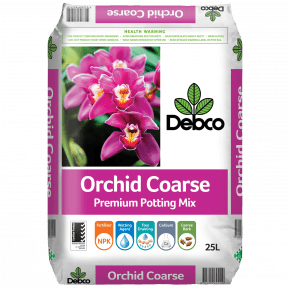 Debco® Orchid Mix Coarse
Debco Orchid Coarse Mix contains quality key additives to deliver optimal growth for epiphytic Orchids such as Cattleyas, Oncidiums and Dendrobiums. Ideal for 6 inch
or greater pots, this mix is specifically formulated from premium graded pine bark with superior drainage and aeration for optimal plant establishment and development.
FEATURES
Fertiliser NPK - Nutrients nitrogen, phosphorus and potassium for healthy growth
Wetting Agent - Ensures nutrients get to the root zone 
Free Draining - Simulates the growing conditions of epiphytic plants
Calcium - Supports nutrient uptake and stronger plant cells
Coarse Bark - Provides ideal aeration for roots
Materials used in the production of Debco potting mixes are sourced from renewable and sustainable resources where possible
SUITABLE FOR
Superior, very open mix developed for growing large Orchids including Cymbidium Orchids, Cattleyas and Epiphytes in pots over 6 inches
HOW TO USE
Debco Orchid Coarse Mix is ready to use straight from the bag with no further additives required.
Select a new pot that will comfortably accommodate the plant for the next 2 years.
Place the plant into the pot ensuring the bulb is level with the top of the pot.
Fill new mixture around the root system whilst holding the plant, and by gently tapping the top work the mix in and around the entire root system.
Fill the pot to the top rim of the pot with mix.
Lightly water and place tray in a warm sunny location.
ONGOING PLANT CARE
A balanced fertiliser was added at manufacture but additional fertiliser may be required in time, depending on plant needs.
Feeding is critical to flowering because without sufficient food, the plant's bulbs will not grow large enough to flower in the following year.
The easiest way to feed your Orchids is by topping up with controlled-release fertiliser when required. For even better results, you can supplement with a soluble fertiliser during the warmer months.
Plants should be divided and re-potted with new potting mix when they outgrow the pot or after 24 months.
SAFETY TIPS
We recommend you always wear gloves when gardening. Wear a particulate mask if dusty.
SAFETY INFORMATION
This product contains micro-organisms
Avoid breathing dust or mists
Wear a particulate mask it dusty
We recommend you always wear gloves when gardening and keep the product moist when handling
Wash hands immediately after use
Read the detailed warning label on the bag
TECHNICAL DETAILS
A range of macro & micro-elements are required for sustained plant growth in mixes
Through the correct balance of air and water, specifically selected controlled-release fertiliser and other essential plant nutrients your plants will flourish in this potting mix
Health and Safety
Always read the pack label and product instructions carefully before use. For further information relating to product safety please review the product data safety sheet link below.

Debco® Orchid Mix Coarse
25L (other sizes available)