Debco® Pine Bark Designer Mulch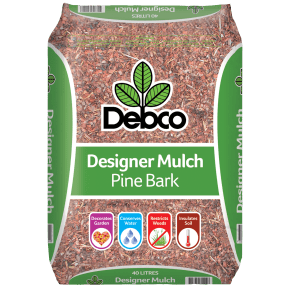 Debco® Pine Bark Designer Mulch
Debco Pine Bark Mulch is manufactured to the highest standards from high-quality materials to provide the home gardener with a reliable and easy to use
decorative mulch. 
This mulch is long-lasting and will provide both a decorative finish to your landscape garden as well as the beneficial results of applying mulch.
FEATURES
The benefits of mulching include:
Decorates Garden - Pine Bark mulch adds a decorative element to all garden types.
Conserves Water - Improved water penetration and reduced evaporation. Mulch also prevents water runoff and soil erosion.
Restricts Weeds - Restricts the germination of weed seeds, therefore reducing garden maintenance.
Insulates Soil - Reduces the exposure of the soil to sun and frost, protecting the plant from extreme changes in soil temperature.
SUITABLE FOR
Perfect for landscape garden beds and pots
HOW TO USE
Debco Pine Bark Mulch is ready to use straight from the bag with no further additives required.
Apply mulch to the soil surface to a depth of 4cm to 8cm in landscape gardens or 2cm to 4cm in pots.
This is the ideal depth to allow
Maximum water penetration
Minimum evaporation
Weed suppression
Erosion control
Buffer soil temperature against heat or frost
SAFETY INFORMATION
This product contains micro-organisms
Avoid breathing dust or mists
Wear a particulate mask it dusty
We recommend you always wear gloves when gardening and keep product moist when handling
Wash hands immediately after use
Read detailed warning label on bag
TECHNICAL DETAILS
Screened and graded to deliver all the beneficial results of applying mulch including conserving water, restricting weeds and insulating soil
Health and Safety
Always read the pack label and product instructions carefully before use. For further information relating to product safety please review the product data safety sheet link below.

Debco® Pine Bark Designer Mulch
40L (other sizes available)