Scotts Osmocote® Garden Soil Planting Mix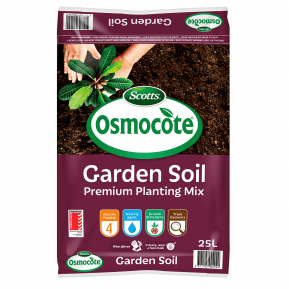 Scotts Osmocote® Garden Soil Planting Mix
Help encourage better growth for all plant types by restoring tired and depleted soils with our premium quality Garden Soil Planting Mix. This planting mix is ideal for creating new landscape garden beds and for improving the soil conditions of existing garden beds. 
FEATURES
Gypsum improves soil texture, provides plants with the calcium they need to strengthen their structure and boost disease resistance
Wetting agent assists moisture to soak into the soil and helps roots absorb nutrients
Made from composted organic materials from renewable sources. Contains no animal by-products so has no odour
Ideal for topdressing raised garden beds that have 'slumped' or working into topsoil to rejuvenate old soil before planting
SUITABLE FOR
Vegetable gardens including raised beds, tubs and planter boxes to improve soil texture and encourage beneficial soil microbes
Garden beds to reinvigorate poor quality soils
All plants including phosphorus-sensitive natives
Safe to use for new plants - the well-composted organics and controlled release of nutrients from the Scotts Osmocote® mean it will not burn soft leaves or tender young roots
NOT SUITABLE FOR
Don't use in hydroponic growing systems, ponds or pots submerged in water
Do not use on lawns - use only specifically named lawn topdress soils on grassed areas
HOW TO USE
Prepare the area by removing any weeds or grass
Construct a new garden bed by adding premium soil straight from the bag (no further additives required). Build up enough soil to suit the requirements of chosen plants
Condition an existing garden bed by applying a 5cm layer on top of the poor soil and then blending the premium soil through. Use any leftover premium soil to topdress the garden bed - this promotes good drainage and root growth
WHEN TO USE
Garden Soil Premium Planting Mix can be added to gardens at any time of the year and can be either incorporated into planting soil or as a topdress
Topdress existing garden beds once or twice a year to replenish organic matter and nutrients
ONGOING PLANT CARE
Garden Soil Premium Planting Mix contains a balanced fertiliser up to 4 months - additional fertiliser may be required in time, depending on plant needs
Avoid allowing plants to dry out - plants should be watered immediately after potting and frequently enough to keep the planting mix moist (not wet)
For best results, top up the soil every time you plant
SAFETY INFORMATION
CAUTION: This product may cause staining of hard surfaces if wet. Avoid contact with hard surfaces and if contact does occur, sweep off immediately
When using potting mixes, we recommend the use of garden gloves to protect your hands, and if dusty, wear a particulate mask
SAFETY FIRST: Read the instructions on the product packaging before use and take particular note of any warnings or cautions on the label
See the Safety Data Sheet for this product
TECHNICAL DETAILS
Suitable for use on and around native plants and other phosphorus-sensitive plants - the included Scotts Osmocote® has less than 2% phosphorus
Contains gypsum, which turns clay into workable soil without altering the pH (acidity or alkalinity reading)
Health and Safety
Always read the pack label and product instructions carefully before use. For further information relating to product safety please review the product data safety sheet link below.

Scotts Osmocote® Garden Soil Planting Mix
25L (other sizes available)