Scotts Osmocote® Plus Organics Vegetable, Tomato & Herb Plant Food & Soil Improver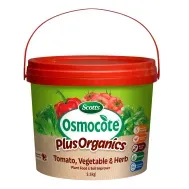 Scotts Osmocote® Plus Organics Vegetable, Tomato & Herb Plant Food & Soil Improver
A plant food and soil improver designed all vegetables and herbs, including tomatoes, which combines the best of both worlds. Scotts Osmocote® Plus Organics nurtures plant growth both above and below the ground and by creating a balanced and sustainable growing environment, plants are healthier, stronger and less susceptible to insect attacks and diseases, season after season
FEATURES
Calcium helps prevent Blossom End Rot in tomatoes, capsicums and other members of the same family (the 'nightshades') while phosphorus promotes vigorous growth
Gypsum breaks down clay soils, provides plants with the calcium they need to strengthen their structure and boosts disease resistance
The natural fertilisers blood & bone and composted manure boost growth and plant health and improve soil texture and moisture holding
Fish extract is a natural source of nitrogen, potassium and trace elements
Seaweed is a natural soil and plant conditioner and tonic that improves resistance to stress and trauma and helps plants recover faster
Scotts Osmocote® uses advanced prill technology that ensures even and controlled nutrient release with no wastage. 
The organics are all derived from renewable resources
SUITABLE FOR
Designed specifically for use on all vegetables and herbs
Safe to use on new plants - the controlled release of nutrients means it will not burn soft leaves or tender young roots
NOT SUITABLE FOR
Do not use in hydroponic growing systems, ponds or pots submerged in water
Do not use on lawns - use only specifically named fertilisers on grassed areas
HOW TO USE
55grams = 3 tablespoons (TBL). Use the table below as a guide to how much to use:
Where to apply

Rate (Flat level scoops)

How to apply at planting

Established Plants

Vegetables, herbs & tomatoes Herbs in-ground
3 scoops per m2

Spread evenly over the garden bed

Mix into the top 10cm of soil

Spread evenly over the garden bed
Potted plants
30cm pot -¾  scoop 
40cm pot - 1½ scoops 
60cm pot - 2 scoops 
90cm pot - 3 scoops
Mix through the potting mix

Apply evenly over the mix 

or mix through when repotting
IMPORTANT: Water in thoroughly after each application and ensure the product is washed off leaves
WHEN TO USE
Apply every six months
For best results, apply in the early Spring when new growth appears, and repeat in late Summer or early Autumn
SAFETY INFORMATION
CAUTION: This product may cause staining of hard surfaces if wet. Avoid contact with hard surfaces and if contact does occur, sweep off immediately.
SAFETY FIRST: Read the instructions on the product packaging before use and take particular note of any warnings or cautions on the label
See the Safety Data Sheet for this product
TECHNICAL DETAILS
NPK 13.1 : 2.3 : 4
Contains added organic materials, natural gypsum, wetting agent and a range of essential trace elements
Safely to use on edibles
Scotts Osmocote® is a controlled release fertiliser that consists of prills (small beads) of high-quality fertiliser encased in a permeable and biodegradable soy extract coating
Each prill contains a balanced microdose of nutrients so a plant's response from an application is reliable and consistent
Health and Safety
Always read the pack label and product instructions carefully before use. For further information relating to product safety please review the product data safety sheet link below.