Scotts Osmocote® Pour+Feed Orchid Indoor Plant Liquid Fertiliser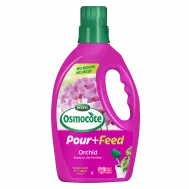 Scotts Osmocote® Pour+Feed Orchid Indoor Plant Liquid Fertiliser
Scotts Osmocote Pour + Feed Indoor Plant Fertiliser for Orchids is a convenient and carefully balanced unique formula to provide essential nutrients to a range of orchids for optimum growth and plant health. Its double action allows plants to absorb nutrients within minutes working through the roots and leaves.
FEATURES
Easy pour measuring cap for easy application – no mixing, no drips, no hassles.
Ideal for all orchids & bromeliads
Contains carefully balanced bio stimulants and trace elements for larger, healthier plants that resist attacks from insects and diseases.
Provides a fast acting boost of nutrients through rapid leaf and root absorption for strong, healthy growth
Able to apply anytime of the year
It works immediately and is effective whether applied to the leaves or soil
SIZES
1L
SUITABLE FOR
All types of orchids including Cymbidiums, Dendrobiums, Phalaenopsis. Also suitable for Bromeliads.
HOW TO USE
Using the cap, simply pour directly onto moist soil around the plant.  Water as required.  Feed Every 2 weeks.
DOSAGE
| Pot Width | Dosage |
| --- | --- |
| 9 - 11cm | 1/2 Cap |
| 12 - 19cm | 1 Cap |
| 20cm | 2 Caps |