Scotts Osmocote® Controlled Release Fertiliser: Roses, Gardenias, Azaleas & Camellias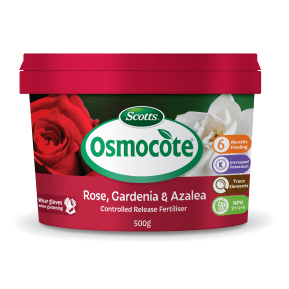 Scotts Osmocote® Controlled Release Fertiliser: Roses, Gardenias, Azaleas & Camellias
A set and forget controlled release plant food for those who don't have the time or inclination to tend every plant or garden bed individually. The smart way to fertilise - specially formulated to feed acid-loving plants, like roses, gardenias and azaleas,continuously for up to six months.
FEATURES
The release of nutrients depends on temperature - more when it's warm and plants are growing and less when it's cold and growth is slow
Scotts Osmocote® uses advanced prill technology that ensures even and controlled nutrient release with no wastage
Controlled release means feeding less often and more effectively; less frequent feeding is more economical and environment-friendly
Wetting agent improves water absorption into the soil or potting mix and helps plants take up nutrients
Boosted iron keeps leaves greener for longer
SUITABLE FOR
All plants in the garden or in pots preferring an acid soil or potting mix and fertiliser (pH 5.2 - 6.2)
Roses in the ground and in pots
Safe to use on new plants - the controlled release of nutrients means it will not burn soft leaves or tender young roots
NOT SUITABLE FOR
Do not use for plants preferring a neutral to alkaline soil and fertiliser (pH 7 and above)
Do not use in hydroponic growing systems, ponds or pots submerged in water
Do not use on lawns - use only specifically named fertilisers on grassed areas
HOW TO USE
Roses, Gardenias, Azaleas & Camellias willpromote healthy growthand beautiful flowers on roses and other acid-loving plants
Use the rates in the table below as a guide for how much to apply OR broadcast over beds using 50-80g/m2
APPLICATION RATES
Area

Planting

Maintenance

Roses, Azaleas, Camellias, Gardenias,

Rhododendrons & other acid loving plants

10cm pot = 2 TBL

15cm pot = 3 TBL

20cm pot = 4 TBL

Years 1-3 6 TBL per bush

Year 4 onwards 10 TBL per bush
Note: TBL - tablespoon = 15g
Established plants - sprinkle Scotts Osmocote® in a band around the dripline on the soil (beneath the outer perimeter of the leaf canopy) once a year and cover with mulch. This is where the feeding roots will be, not close into the trunk
Pots - sprinkle at recommended rate over potting mix and cover lightly with mulch
Self-watering pots - make 10cm deep holes* in the potting mix with a pencil or long skewer a few centimetres in from the rim of the pot and fill with columns of Scotts Osmocote®. Water from the top once or twice to start the feeding process
*The number of holes will depend on the size of the pot - as a guide, three equally spaced holes would be enough for a 20cm diameter pot
For a complete guide on how to use Scotts Osmocote® Plus Trace Elements Roses, Gardenias, Azaleas & Camellias, watch the video on this page and always check the packaging
WHEN TO USE
Add to soils at planting time
Apply in early Spring, when soils are warming and plants are putting on new growth and repeat in early Autumn
SAFETY INFORMATION
CAUTION: This product may cause staining of hard surfaces if wet. Avoid contact with hard surfaces and if contact does occur, sweep off immediately
SAFETY FIRST: Read the instructions on the product packaging before use and take particular note of any warnings or cautions on the label
See the Safety Data Sheet for this product
TECHNICAL DETAILS
NPK 17.7 : 2 : 5.8
Includes boosted iron and essential trace elements
Specially formulated for acid-lovers - plants preferring a soil pH from around pH to pH 6.2, where pH is neutral and numbers above 7 are alkaline
May be used safely on food plants, for example,blueberries
Scotts Osmocote® is a controlled release fertiliser that consists of prills (small beads) of high-quality fertiliser encased in a permeable and biodegradable soy extract coating
Each prill contains a balanced microdose of nutrients so a plant's response from an application is reliable and consistent
Health and Safety
Always read the pack label and product instructions carefully before use. For further information relating to product safety please review the product data safety sheet link below.

Scotts Osmocote® Controlled Release Fertiliser: Roses, Gardenias, Azaleas & Camellias
500G (other sizes available)