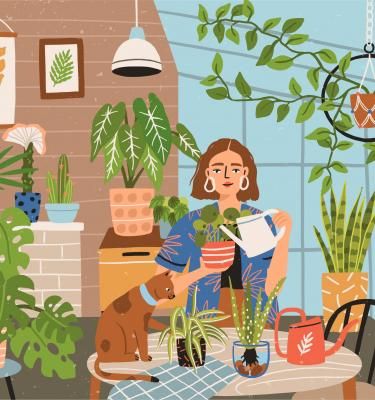 Gardening Trends according to Instagram 
When we want or need to know what the next 'big thing' will be, where do we turn? 
To the world of social media of course, Instagram in particular. 'Insta' is the perfect place to find and be inspired by the biggest trends of the moment. 
It's no different when it comes to our gardens. We can spend hours scrolling through the best garden-inspo on Instagram and dreaming of relaxing in the sun in our re-imagined outside spaces. We wanted to find out;
What are the biggest trends of the moment? 
What are the upcoming trends we all need to keep an eye on? 
Naturally, we turned to Instagram. By creating a list of gardening trends, using desk research and social listening data we've found the answers. Those with over 100,000 Instagram posts were then omitted to show just the new, emerging trends.
Here's what we discovered.
The top 10 up and coming gardening trends 
1.#balconygardening – 96,817 Posts
One in 10 households in Australia have no access to a private or shared garden, but what many living in urban areas do have is a small outdoor area on an apartment balcony or patio. Balconies make the perfect space for a garden – you just have to know what to do with the space. Balcony gardening is the top up and coming gardening trend right now. 
How to get the look: You have plenty of choice to make this functional space really come alive. Options include making the most of any wood on your balcony, minimalist design or going all out on a wildlife oasis. 
Plants to use: The plants you'll need will depend on your chosen look, but by opting for plant like rosemary, lavender, salvia, heavenly bamboo (nandina), Japanese maple, snake plant and peace lily, you can't go too far wrong. 
2. #wildgarden – 91,777 Posts
The second biggest trend in our up and coming list is the wild garden. Days spent pruning, mowing and meticulous garden maintenance are on the out – there's so much else to enjoy outdoors and garden alternatives that don't require the effort. Looks like it really is time to go wild!
How to get the look: A wild garden that encourages life and wildlife will rely on a few key things. First are wildlife friendly plants as well as plenty of water. To really get the look, native grasses are ideal as are vines and creepers that ramble over fences or walls.  They are great at hiding human-made structures and create an untamed look in just a single season. 
Plants to use: Plants with simple flowers, not the very formal or ruffled blooms of highly bred plants  – or those similar to their original species form – are the best to encourage wildlife and insects. Open flowers are ideal for bees, butterflies and other pollinating insects. Include a few potted native plants such as grevilleas and banksias.
3. #insideoutside – 83,731 Posts
This trend has been gaining traction in Australia for years, so it's no surprise to see it at number three on our list of up and coming garden trends. We spend so much time outdoors many of us have already adapted our décor and styling to flow from one space to another
How to get the look: The inside outside garden trend is all about creating flow from your inside space to your outdoor space, so one naturally flows into the other. The garden should feel like an extension of the home. Your interior and exterior design must work in harmony. 
Plants to use: Choose plants that work both indoors and out to create a transition between the living and outside space. Good options include geraniums, ferns, potted palms, peace lily, calla lily, cacti & succulents and seasonal potted colour (annual flowers). 
4. #tinygarden – 80,752 Posts
Many people don't have a private garden or outside area or have to make the best use of a very small space.  Just like those innovators making the most of small spaces indoors, the tiny garden trend is blooming at number four in our list. 
How to get the look: In a small space, it's all about making it look bigger. Options include utilising vertical space with green walls, laying borders, having clear pathways and creating specific zones or tiny outdoor rooms. 
Plants to use: Long flowering plants like geraniums, pots of flowering annuals, bromeliads and succulents, ferns, potted palms, culinary herbs like rosemary, thyme, sage, basil, coriander and native shrubs like Banksia 'Birthday Candles', bottlebrushes and grevilleas. 
5. #raisedbedgarden – 78,910 Posts
This trend is simple and straightforward, and looks great too. It's no surprise that the raised garden bed is a real up-and-comer on Instagram. 
How to get the look: By building a raised garden bed (timber or galvanised steel, from a DIY kit or your own design),  not only do you create a fantastic feature in your outside space, it's an ideal option if you don't have a lot of room left in your main garden. You can also have more control over the growing media (improved soil or potting mix), reduce soil compaction and care for your plants. The choice of material is up to you. For a real rustic look, old railway sleepers work well. If you are using timber, make sure it's treated to extend its lifespan in contact with soil. Use the correct timber for raised beds in which you are going to grow edibles – some treatments are approved for this use, others are not.
Plants to use: This really depends on you. You can use your raised beds to grow a huge range of plants including fruits and vegies. The key point to remember is to choose plants that will work in the position you've chosen. Understanding how the conditions will impact their potential to grow and thrive is important to their success. 
What the Instagrammers say: "The obvious benefit of raised garden beds is the height, preventing aches and pains from bending down and tending to a traditional garden.  Additionally, keeping your crops up and away from pests like slugs and snails, cats and dogs will assist in preventing your crops from being attacked or damaged."
6. #permaculturegarden – 76,576 Posts
A holistic approach to gardening, permaculture gardening means "permanent agriculture" and it's defined as working with natural forces – wind, sun, and water – to provide food, shelter, water and whatever else your garden needs. 
How to get the look: The key principle behind a permaculture garden is that you are replicating patterns of growth and harvesting that occur naturally. Before you start re-imagining and planting, it's important to design the garden based on how you want to use natural elements. Key design features also include "stacking" (using various canopy heights as occurs naturally in a forest), succession planting and companion planting. With permaculture gardening nothing is wasted. 
Plants to use: Opt for annual vegetables like beans, peas, tomatoes, capsicums and squash while adding in plenty of flowers and greens to create a "permaculture look". Sunflowers are also a great addition over summer – they're great to make use of the space. 
 
7. #whitegarden – 51,750 Posts
The clue really is in the name with this one. With just a quick scroll through Instagram, you can see why this is such a popular up and coming trend. Against a backdrop of dark green, white flowers are really eye-catching. There's something so pure and classic about them. 
How to get the look: Key steps to create a white garden, include choosing a dark backdrop, varying up the foliage and changing up shapes and sizes, repeating form, and finally adding some eye-catching white flowers to fill the space. 
Plants to use: Gardenias, white flowered evergreen shrubs like camellias, azaleas and rhododendrons, white annuals such as pansies, violas, primulas, stocks, sweet peas, delphiniums, snow-in-summer, silver foliage groundcovers – anything that has white flowers will fit the bill!
8. #windowsillgarden – 48,432 Posts
This really is one for those of us who don't have much space at all. Lack of space encourages real creativity. Just look at what some of these top Instagrammers have done to their windowsills. This isn't a huge trend in Australia but it's developing – our housing style generally doesn't suit windowsill gardening, except perhaps a herb box outside the kitchen window.
How to get the look: First and foremost, you need a windowsill that gets at least six hours of sun a day. You'll need pots with good drainage and premium quality potting mix to get things started. 
Plants to use: A windowsill garden is ideal for growing plants that will add a little something extra to your cooking, including herbs, chillies, lemongrass, garlic etc. The other popular use is to add splashes of bright season colour – pots of flowering annuals that can be swapped out at the end of each season. The list goes on. 
What the Instagrammers say: "With more time at home than usual, we've all started to realise the importance of home and the space around us. With outdoor space in cities at a premium, a windowsill garden is the perfect way to utilise what room you do have to bring that much needed element of 'green' to our city lives." 
9. #greygarden – 45,124 Posts
Not satisfied with being one of the biggest interior design trends of the moment, grey is really beginning to make an impact in garden design too. We're not surprised it's made its way into our list of up-and-comers. 
How to get the look: Bringing grey into your garden is about those man-made touches that really let the space sing. From your choice of patio paving, fence paint, gravel, or garden path, grey is the way to go. The inclusion of silver foliaged plants will also create the look without having to re-paint or re-pave!
Plants to use: In a grey garden, match your choice of plants with grey man-made touches to really complement and make the colour pop. Purple is a fantastic colour to match with grey – lavenders are tops here. Anything with silver leaves will also sit well.
 
10. #cottagegarden – 37,021 Posts
Who doesn't dream of a quaint country cottage to escape to every night or maybe just on the weekends? You can create the cottage vibe in any garden. Judging by the number of posts on Instagram, plenty of people are doing just that with this growing trend. 
How to get the look: You can immediately pick out a cottage garden, it's such a distinct style. Key design features are an informal style with use of traditional materials and dense plantings with a mix of ornamental and edible plants. Remember, it's all about grace and charm. 
Plants to use: Think "olde worlde" Grandma's garden, full of charm with the likes of roses, foxgloves, poppies, sweet peas and delphiniums. 
 
Overall Top 10 Gardening Trends on Instagram
While we're all about the up and coming trends in gardening, we can't ignore everyone's favourites. There's a reason why they're the biggest trends of the moment and, for many, have been for years. 
So we also looked into the top 10 biggest gardening trends on Instagram. 
With sustainability a key word on the world's lips at the moment, it was no surprise to see #growyourown on top of the pile as the biggest trend. The same goes with #organicgardening at number 3. 
With so many of us living in urban areas, #urbangardening is number 2 and #indoorgardening at number 5. Both #verticalgarden and #containergardening are in for our green fingered space savers, while some classic styles including #japanesegardening and #countrygarden also make our list. 
What the Instagrammers say on #verticalgardening: "If you live close to the city, you know how rare it is to stumble upon rentals that offer any outdoor space. If you're lucky, you have a modest balcony or a communal outdoor space. So how do we best make use of our small urban spaces? Look up! The best thing is, thinking up doesn't require any fancy trellis structures (which tend to be expensive if you're not building it yourself). Most spaces already come with what you need, equipped with fencing, brick, railing, stairs, an overhang deck, or an awning. Utilising all wall space and existing structures can dramatically change the landscape from a concrete box to a vertical garden oasis." 
All the hashtags we analysed 
You can probably tell from the depth of our research that we love gardening trends. Whether these are up-and-comers or those that everyone can't get enough of on Instagram, we love them all. 
To make sure we brought you the most complete list, here's our league table of all of the gardening hashtags we analysed. What makes the top of the list? It's all about the colours with #greengarden in at number one and #bluegarden in at number three; #colourfulgarden makes it in at number six with #redgarden also sneaking into the top 10. 
The people of Instagram have spoken. We know it's all about colour when it comes to the top hashtags. We can see that plenty of the up and coming trends focus on space saving, a dash of colour and really getting back to nature – which are all great to see. 
And in the all-time stakes? Sustainability is really coming to the fore once again, along with some of the classic styles that we all still can't get enough of. 
The questions is. What will you do with your outside space?