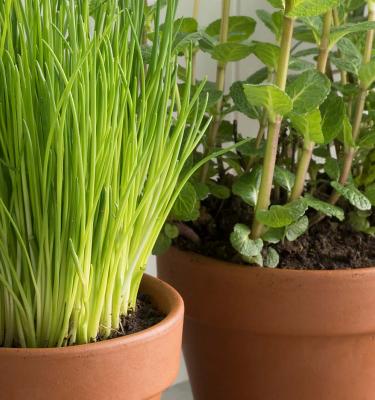 Choosing the right pot for your crop
Home-grown vegetables and herbs are essential for the food lover and amateur cook and, luckily, they are easy to grow in pots.
Potted food gardens are portable, versatile and perfect for backyards, balconies and windowsills. And best of all, they can be easily located close to the kitchen, making harvest even easier.
Here's everything you need to know to get started, including:
Choosing the right pot
Growing in pots
A simple step by step to potting up
Choosing the right pot
Growing plants in pots, troughs and containers are easy and fun. And with these simple tips, you'll be harvesting delicious herbs and veggies in no time.
Pot composition
When buying pots, it's important to consider what they are made from.
Plastic pots are available in some great colours and can look as good as glazed pots. Their main benefit is that they are durable and retain moisture in the potting mix better than clay pots.
Terracotta (clay) pots look great but dry out quickly. They need watering more often than plastic pots, but you can reduce watering frequency by sealing the inside of them with a pot sealant (available from most good hardware and garden centres).
Glazed or ceramic pots look beautiful, hold moisture better than untreated terracotta pots and are stylish additions to the garden. Unfortunately, they can be very heavy and difficult to move around when fully planted.
Planter bags can be great for crops like potatoes or strawberries. Remember, they are still containers and will need more frequent watering than garden-grown plants.
Pot size
For a single plant: choose a pot only a couple of centimetres larger than the existing pot. 
For larger pots or troughs: group plants that like similar conditions together in one large container. For example rosemary with oregano or coriander with basil.
Pot shape
Plants often need repotting, whether it's increasing pot size or planting a new crop. Look for pots with straight or tapered sides, avoiding pots that curve inward at the top.
While curved pots look great, their shape makes it difficult to remove plants for repotting or harvesting. Sometimes, it's necessary to break the pot to get the plant out when the top is narrower than the rest of it.
Special features
Planters with special features are commonly used for vegetables and herbs, such as self-watering pots. These do not dry out quickly and are ideal for thirsty plants or busy people. But don't let these attributes fool you - you still need to care for your plants and check water and fertiliser levels, especially during hot weather.
Also look for strawberry pots, specifically designed for lots of plants in a small space.
Growing veggies and herbs in pots
Choosing the right pot is just the start. Also consider:
Potting mix – always choose the best potting mix you can, preferably suited to the plants you wish to grow. It saves you time and money in the long run.
Position – even in pots, most vegetables and herbs still need around six hours of sunlight a day. Choose a position out of the wind and close enough to the kitchen to make harvesting easy.
Water – pots need watering more frequently than garden-grown plants. Check how moist the potting mix is daily.
Fertiliser – good quality potting mix will contain fertilisers, wetting agents and water storing granules. However, frequent applications of a suitable fertiliser will help to keep plants healthy.
Plants suitable for growing in pots – while most plants can be grown in pots, there are a couple of veggies and herbs that will always do better in the garden. If in doubt, ask your local garden centre for advice.
Step by step potting up
When potting up your plants, follow these six simple steps:
Water plants before potting or planting.
Check the drainage hole. If there isn't one, make a few small holes in the base of the pot. If the holes are larger 10c piece, cover the base with shade cloth or add a handful of large pebbles to stop the potting mix pouring out the base. Be careful not to block the holes.
Fill the new pot with good quality vegetable and herb potting mix.
Remove your plant from its current pot by carefully squeezing the sides of the pot. Then gently tip upside down into your hand, being careful to support the top growth.
Plant in the hole and firm the potting mix around the plant to hold it in place. Backfill if necessary, making sure it is still at the same level as it was in the previous pot.
Water and enjoy!