Scotts Chicken Layer Mix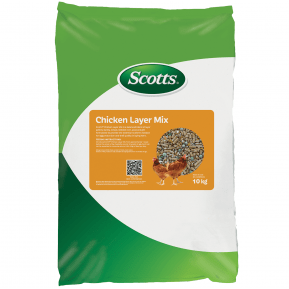 Scotts Chicken Layer Mix
Scotts® Chicken Layer Mix is a balanced blend of layer pellets, barley, wheat, kibbled corn, peas and grit formulated to provide the essential nutrients needed for egg production and shell quality in laying hens.
FEEDING INSTRUCTIONS:

Introduce Scotts® Chicken Layer Mix from approximately 1 week before the onset of lay, typically around 16 weeks of age. Each hen can be expected to consume around 100-150g of feed per day
Always ensure birds have access to fresh, clean water.

Caution: This product is only suitable for laying hens from 16 weeks of age.
Blended in New Zealand from local and imported ingredients.
Store in cool, dry conditions.