Scotts Rabbit & Guinea Pig Pellets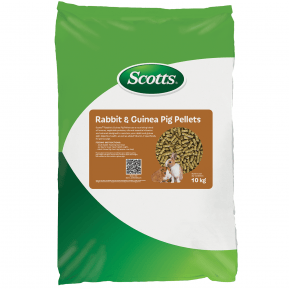 Scotts Rabbit & Guinea Pig Pellets
Scotts® Rabbit & Guinea Pig Pellets are a nourishing blend of lucerne, vegetable proteins, oils and essential vitamins and minerals designed to maintain your rabbit and guinea pig's digestive health, as well as added Vitamin-C specifically for guinea pigs
FEEDING INSTRUCTIONS:
Adult rabbit: Feed 25g (two tbsp) per day for every 1kg of rabbit weight. 
Adult Guinea Pig: Feed 16g (approx. one tbsp).
Please adjust serving sizes according to your rabbit or guinea pig's weight and age to ensure they remain at their ideal weight. Not suitable for infant rabbit or guinea pigs. 

Store in cool, dry conditions.