Levington® John Innes No.2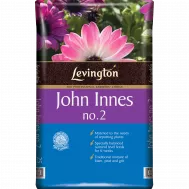 Levington® John Innes No.2
Levington John Innes No. 2 is perfect for repotting plants and vegetables, pots and tubs. This product is a traditional mixture of loam, peat and grit and its special balanced nutrient mix feeds for up to 6 weeks.
HOW TO USE
Put fresh compost in the bottom of a new pot.

Turn the old plant upside down and tap pot sharply to release.

Place the plant in the middle of the new pot and add more compost, firming lightly around the rootball.

Leave a space of at least 1cm below the rim to allow adequate space for watering.  Water the plant well.
WHERE TO USE
Ideally matched to the needs of plants being repotted into small containers.
CAUTIONS
Use in a well ventilated place and avoid breathing dust. Always wear gloves when gardening and then wash your hands after use.
Always read the label and product information before use.
RECYCLING & HANDY HINTS
This Levington John Innes No. 2 compost provides all of the necessary  food for up to 6 weeks.  After that time, water wtih Miracle-Gro Water Soluble Plant Food, or re-pot into Levington John Innes No.3.
DID YOU KNOW THAT YOU'RE PART OF ONE OF THE WORLD'S LARGEST RECYCLING EFFORTS?
Each year, Scotts Miracle-Gro resuses thousands of tonnes of material from gardens and forests in many of our compost mixes, to help you grow plants that enhance your environment and make the World more beautiful.
Health and Safety
Always read the pack label and product instructions carefully before use. For further information relating to product safety please review the product data safety sheet link below.