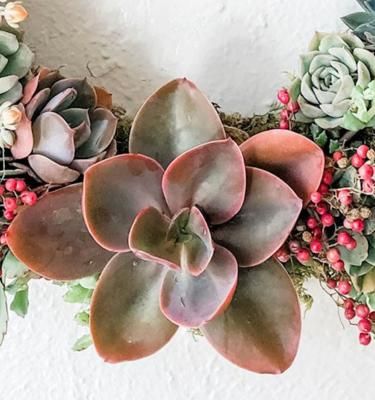 DIY Christmas Succulent Wreath
The festive season often brings decorations that glisten, glimer and spark joy, but come January they're piling up in landfills.
Why not go for long-lasting holiday decorations this year with a succulent wreath?
The unique colours, shapes and textures of succulents make them perfect for some DIY decor!
Check out our guide to creating a succulent wreath to find out how you can include a special touch of nature in your festive decor this year!
Create Your Own Succulent Christmas Wreath
---
Gather Your Supplies
To get started you will need:
DIY Metal Wire Wreath (available at leading craft stores)
Floristry pins
Succulents (rosette-shaped succulents / Echeveria species work best)
Christmas baubles or decorations of your choice
9L bucket
Wire cutters
Scissors
Secateurs
Dust mask and gloves
---
Get Started
In a bucket, soak Debco Sphagnum Moss in Scotts Osmocote Pour+Feed for Cacti & Succulents. It is much easier to use the moss when it is wet. Plus, Scotts Osmocote Pour+Feed for Cacti & Succulents will give your succulents a nutritious boost so they thrive through the holiday season!
Place your DIY wire wreath base on a flat surface and grab a handful of soaked sphagnum moss. Squeeze out any excess liquid, and start placing around the wreath, securing it with wire as you go. 
Now comes the fun bit! Sort your succulents into small, medium and large sized.
Thread your floristry pin or wire through the stalk of the succulent and push the pinned succulent into the wreath
Gaps can be filled with baubles or decorations of your choice, using the same pinned method.
---
Care & Nurture
Once made, lay your wreath flat for a week so that the succulents can take root
Your wreath will thrive best in a bright sunny spot
Cacti and Succulents don't like soggy feet, so be sure not to over water! A spray under the succulents and directly onto the Sphagnum Moss works well.
Fertilise every fortnight with Scotts Osmocote Pour+Feed for Cacti & Succulents