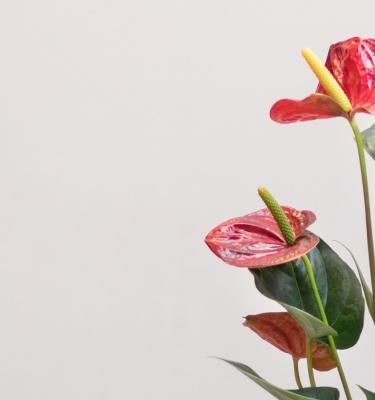 Brighten Up Your Home With These Colourful Indoor Plants
Introducing colour and nature into your home using plants is an easy and quick way to improve the atmosphere of any room. Vibrancy can come from foliage as well as flowers, and of course, you can add to the effect with colourful pots!
An Indoor Plant For Every Colour
Most well-planned rooms are designed around three colours - a main dominant colour, a secondary complementing colour, and an accent colour. Establish the colour theme for your room and choose plants that will work well with this.
Red Plants
A great theme for a home office or creative space, red suggests leadership and determination, intensity and ambition. It also gives a strong first impression, so is great in an entrance hall too.
The Lipstick plant is a compact trailing plant with delicate foliage, well suited to lots of indirect natural light.
Anthuriums (also known as The Flamingo Lily) is a talking point, with glossy green leaves and striking upright red flowers featuring a prominent yellow-orange spadix. This easy-to-grow plant needs good sunlight to produce lots of flowers, and a regular feed with Scotts Osmocote Pour+Feed for Indoor Plants fortnightly.
Mosaic or Fittonia plants have red, sometimes white, leaf veins that look dramatic against the deep green foliage. They need humidity and slightly acidic soil, and indirect light to thrive.
Poinsettias are a Christmas icon with their cherry-red flowers that provide heaps of holiday cheer. See our Poinsettia Growing Guide to learn more about how to care for these festive plants.
Pink Plants
A pink colour scheme suggests fun and love, warmth and sweetness.
Bromeliads and their pineapple-like upright, spiky growth are a striking addition to a room. They need a lot of light, but only occasional water so are fairly low maintenance.
Hoya produce a waxy pink flower and a gentle fragrance. They need warmth and indirect sunlight, and will benefit from a regular spray of Scotts Osmocote Mist+Feed for Orchids.
The lively leafy growth of Philodendron 'Pink Princess' makes it a quick win for any room, and they are known to help purify the air too.
The Pink Polka Dot Plant (Hypoestes Phyllostachya) is exactly as you might imagine - splashes of pink polka dots, on a dark green leaf. As a compact growing plant, it looks cute in lots of little pots.
Both Tradescantia tricolour and some cultivars of Coleus spp. have pretty, variegated leaves with lots of pink markings on the leaves.
Some varieties of the unusual succulent Echeveria spp. have pink tones to their leaves, and this is enhanced when provided with lots of sunlight.
Orange Plants
Believed to stimulate creativity, enthusiasm and energy, orange is a good colour to surround yourself with to help generate ideas. It is also associated with warmth and cosiness.
Kalanchoe Blossfeldiana is a small, pretty succulent with thick green leaves and bright orange blooms. It likes warm conditions and partial shade. Remove older flower heads to encourage new growth.
Firecracker flower (Crossandra infundibuliformis) has waxy dark green leaves and bright orange flowers.
Fire Croton (Codiaeum variegatum) has leathery leaves of diverse shapes, sizes and colours. The dark green with orange variegation is perfect for a room with orange accents. Keep the soil moist at all times and wipe leaves regularly to remove dust and maintain plant health.
Jelly bean plant (Sedum rubrotinctum) is so-called because the small succulent leaves look like jelly beans. Provide it with plenty of sunshine to bring out the orange hues.
Purple Plants
Evoking feelings of fantasy and mystery, charm, richness and elegance, there are lots of great purple flowered plants which can grow well as houseplants.
Moth orchids will grow happily with limited light and will benefit from a potting mix which will help them to retain moisture, such as Scotts Osmocote Orchid Mix. Orchids also produce flowers that are orange, pink and white, so make sure the cultivar you buy is a purple one.
African violets are a cute and colourful pot plant that will fit into any space. With velvety leaves and bright flowers, these colourful little plants will tolerate poor light, but are sensitive to moisture levels - use Scotts Osmocote African Violet & Cyclamen Mix to help them grow their best.
The Persian shield plant is happy in full sun or partial shade, and with steady humidity, will produce beautiful bright purple foliage.
White Plants
Giving the impression of space and openness, cleanliness and peace, there are many plants with white flowers to choose from.
The Peace Lily works well in rooms where light is low, but it needs a lot of moisture - check weekly and make sure to water if the soil feels dry.
Cyclamen are available with white, pink or purple flowers, and all offer a closely-packed abundance of colour, with pretty, variegated leaves.
Madagascar jasmine, also commonly known as Stephanotis, has attractive dark green foliage, and pure white star shaped flowers.
Some anthuriums and orchids come in a range of different colours, and white flowered ones are some of the easiest to obtain.
White flowered cultivars of Amaryllis (Hippeastrum) have large star-shaped blooms and a beautiful, spicy fragrance to accompany them.
Holiday cactus (Schlumbergera truncata) has leafless stems and fleshy, flat segments, which terminate with a colourful flower on the end. These can be orange, pink, red or white.
Green Plants
The calming effect of green is perfect for creating a sense of security and comfort. It suggests tranquility and balance, and is easy to achieve with so many plants having a fair amount of green coloured foliage.
The Fiddle Leaf Fig offers lots of lush, dense, glossy green growth. It needs lots of light and regular watering.
Lucky bamboo is very hardy and doesn't need much light, so a good choice for those looking for an easy option.
Aspidistra, also known as the cast-iron-plant owing to the rough and tough treatment it will tolerate. Happy in shade and with cool indoor temperatures, this is a great choice for an awkward spot.
Boston Fern - great in a pot or hanging from a basket, fern's attractive soft fronds make it a must-have for a room with green themes.
Devil's Ivy (otherwise known as Pothos) is a great choice for beginner indoor plant parents, as they can thrive with little attention. It looks great draping over the sides of pots and furniture, or trained up a bannister.
Yellow Plants
With welcome vibes of warmth, sunshine and brightness, a yellow colour scheme suggests optimism and good health.
Snake Plant, or Mother-in-law's tongue, has a variegated leaf with lots of yellow colouring on the upright, thick leaves. These plants are low maintenance and virtually indestructible, so perfect for the neglectful plant parent!
Gerbera have vibrant flowers which cheer up any room, with yellow, pink, orange or red flowers. We really like 'Wake up' for its big and bold yellow flowers. Water regularly and feed monthly with Scotts Osmocote Pour+Feed for Flowering Plants to maintain nutrition levels, which will encourage the production of more flowers.
Impatiens variety Busy Lizzie has bright yellow flowers and pointed tri-colour foliage. It likes partial or full shade and plenty of moisture, so do not allow the soil to dry out.
A container of flowering daffodil bulbs is a cheerful addition to any room. Although short-lived, the erect green stalks and bright yellow flowers are simply beautiful.
Yellow cultivars of Begonia, such as 'Nonstop Yellow', have attractive foliage too. Provide them with plenty of indirect sunlight.