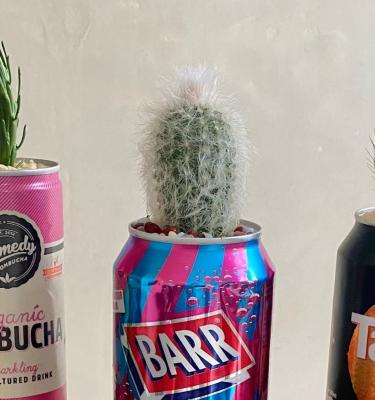 Grow Your Own Cactus In A Can
Turn your tinnies into a can planter for your cactus.
It's a sustainable, fun and easy DIY activity - plus you can use cuttings to double your cacti family!
How to Grow Your Own Cactus in a Can
---
Gather Your Supplies
To get started you will need:
A used can
Your cactus of choice (Mini Aloe and Haworthia varieties work best!)
1 bag of Debco Horticultural Charcoal
Pebbles (roughly 1cm in size)
Small decorative pebbles in your choice of colour
Can opener
Hammer and nail
Dust mask and gloves
---
Get Started
Prepare your can planter by using the hammer and nail to create a few drainage holes in the bottom of the can;
Remove the top of the can with the can opener;
Add a 2cm layer of the larger 1cm pebbles in the bottom of the can;
Add a 2cm layer of Debco Horticultural Charcoal;
Then, add a generous handful of Scotts Osmocote Cacti & Succulent Potting Mix; into the can
Plant your chosen cactus into the potting mix and infill around the plant with more potting mix so that it's secure and stable;
For the final layer, add a 1cm deep layer of decorative small pebbles;
Place in a sunny position, water in well and enjoy!
---
Care & Nurture