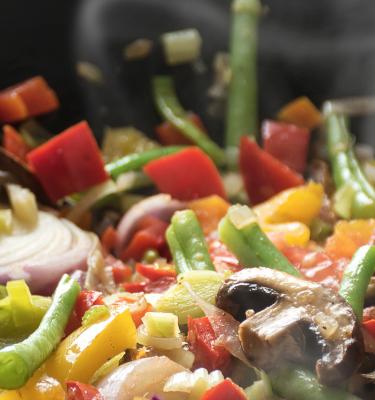 Homegrown Winter Vegetable Stir Fry
Winter is one of the best times to make a vegetable stir fry with a variety of vegetables available straight from your garden!
Add broccoli, cauliflower and snow peas for a crunchy texture, carrots for a hint of sweetness, mushrooms for a savoury umami note. Leafy Asian greens and cabbage are also a delicious way to add flavour to a stir fry.
---
Here's one of our favourite recipe for a quick vegetable stir fry using produce from your own veggie patch.
Start off with making a sauce. Even though the sauce is added at the end, it's best to mix it up in the beginning. Mix soy sauce (tamari if gluten intolerant), and vinegar (or another acid like lemon or lime juice) in a small jug. Add honey, brown sugar or maple syrup for a hint of sweetness. Add aromatics and herbs of choice such as grated ginger, garlic, or chili paste. Season with salt, black pepper or white pepper. Finally, add some cornflour, and mix it all up.
Heat up oil in a wok, or large frying pan. Turn up the burner to high heat, and then start adding whatever vegetables you have on hand. Vegetables that take longer such as carrots need to be added first, followed by cruciferous vegetables such as broccoli and cauliflower, followed by quick cooking vegetables such as snow peas, leafy Asian greens and cabbage.
Stir constantly, until the vegetables are tender, but still crisp. Leafy greens such as bok choy, choy sum and cabbage will wilt, but still retain their crisp colour. Add the sauce in the end, mixing it altogether. Garnish with Thai basil or spring onions, and a sprinkle of sesame seeds. Serve hot with steamed rice, or noodles.
---
Recipe
Ingredients
For the sauce:
2 tablespoons of soy sauce
2 tablespoons of vinegar
1 tablespoon of honey (can substitute with brown sugar)
2 crushed garlic cloves
1 or a half tablespoon of red chili paste or hot sauce
1 tablespoon of cornflour or corn starch
Pinch of salt
Pinch of pepper
For the vegetables:
2 tablespoons of oil (peanut or canola oil is most ideal)
1 carrot, cut into 1/8 inch thick sticks or half-moons
2 medium sized bok choy (or other leafy green of choice), separate stem from leaves
1 broccoli, cut into bite sized pieces
1/2 cauliflower, cut into bite sized pieces
200g of snow peas, trimmed
1/4 cup of fresh basil, sliced 
To garnish:
Sesame oil (optional)
Sesame seeds
Spring onions, sliced
Method:
Place all the ingredients of the sauce in a small jug or bowl. Stir with a whisk, and set aside. Make sure to give the sauce a quick whisk to dissolve the cornflour.
Heat oil in a wok or large heavy based skillet or frying pan over high heat
Add onion, and saute for 30 seconds.
Add the carrot, along with the bok choy stems and saute for about 2-3 minutes.
Add the broccoli and the cauliflower and saute for 1-2 minutes.
Finally add the snow peas and the bok choy leaves. Cook for about a minute till the bok choy leaves wilt, and then add the sauce.
Toss the vegetables in the sauce. The sauce will thicken and become glossy. Add the sliced basil, and then take off the heat. Don't overcook the vegetables as they will start wilting, and lose their colour and crispness.
Serve over rice or noodles. Garnish with spring onions, and sesame seeds. You can also add a few drops of sesame oil for additional flavour.