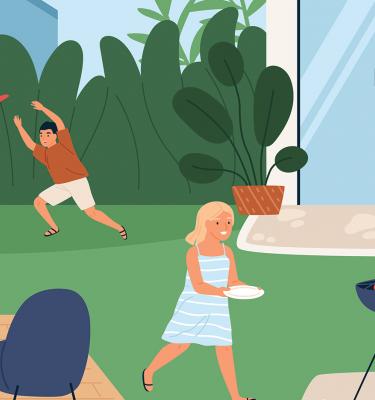 Our Top 5 Backyard Activities for Kids
Keeping the kids active and outside doesn't have to be a chore.
Make the most of what you've got at home with these boredom busters that are enjoyable for the whole family!
Backyard Ninja Warrior
A healthy lawn, free of any weeds is the perfect place to play and host your own backyard games. Look around your home for any household items that can be reused into fun games for the kids.
If you have any small balls and leftover plastic bottles, fill the bottles up with water (or sand for more of a challenge) and line them up to create a family backyard bowling league. Another popular activity to try is an obstacle course! Compete to see who the best Ninja Warrior in your family is by creating a course of hoops, mini-challenges and walking planks on your lawn. Let your imagination run wild!
---
Build a Herb Garden
No matter your space or shade of green thumb, you can create your own herb garden. Herbs are super resilient and can be grown in planters of all shapes and sizes. Plus, you'll reap the numerous culinary and health benefits of having homegrown herbs!
Check out your local nursery to see what herb seedlings are in season and ready to plant. Next, pick up a bag of Scotts Performance Naturals Premium Potting Mix to plant your herbs in. Using a quality potting mix is especially important as it provides your new plants with valuable nutrients and the best growing base for them to thrive.
---
Build a Worm Farm
Get your hands dirty and introduce your kids to the world of worms. This hands-on activity is an awesome mini science experiment that teaches your kids all about worms and their countless benefits for the garden.
Worm farms don't need to be fancy, in fact, you can build your own with basic household items. Find yourself a Styrofoam box, some worm bedding (go for either compost or shredded paper), newspaper, soil and most importantly – compost worms! Once a couple of weeks have passed, slowly add food scraps, sit back and let your new wiggly friends do the work.
If you can smell your worm farm then something is wrong! You don't want to overfeed your worms, so depending on your worm farm size, avoid overloading food scraps as this causes your farm to overheat and ferment.
---
Hanging Strawberries
Hanging baskets are a cute and space-efficient way to introduce greenery around the garden and home. If you're after a great DIY project, upcycle old colanders by turning them into hanging strawberry planters!
Simply, line the base of the colander with some hessian and fill it with Scotts Performance Naturals Premium Potting Mix before planting strawberry seeds! Kids can enjoy watching the strawberries grow and have fun picking them when they are ripe and ready!
---
Bug Hunt
Send your kids on an outdoor adventure and see what creepy crawlies and bugs they can find in the backyard. A bug hunt is a great way to get kids outside and exploring nature!
All you need to start 'hunting' is a magnifying glass, a checklist of bugs to find and a pen. Not only will your kids learn all about the secret lives of their new six-legged friends, but they'll also learn valuable observation skills! We always recommend using gloves when playing in the garden.