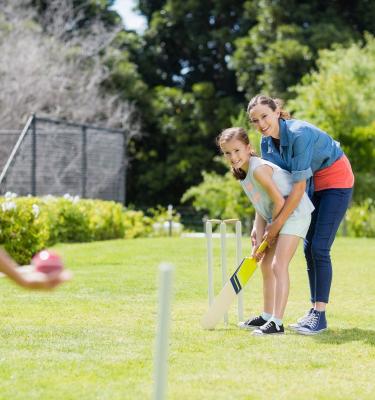 Top lawn tips for the ultimate cricket pitch
Summer afternoons are the best time for a friendly match of backyard cricket. This summer, give your guests a taste of what it's like to play on the MCG with your own DIY cricket pitch.
For those looking to get their lawns "cricket ready" this summer, we have our top tips for getting your backyard pitch ready:
Lawn fertilising is key
Fertilising is one of the most important steps to ensure your lawn is thick, green and healthy. Use Scotts Lawn Builder Extreme Green Slow Release Lawn Fertiliser which will feed your lawn for up to three months while also encouraging deeper root development and preventing surge growth, meaning you'll have a picture-perfect lawn without all the added mowing.
Harness the rain for the lawn
With a wetter than usual summer predicted around Australia, be sure to make the most of all the rain. Investing in a wetting agent will help your lawn absorb all of the extra rainfall, delivering it deeper into the root system instead of letting it run off or pool on your lawn. Scotts Lawn Builder + Wetting Agent has the added benefit of feeding your lawn while aiding in water retention.
Find the right lawn space
One of the most important aspects to any backyard cricket pitch is considering the layout. Make sure when you are planning that you choose a nice big area. However, smaller lawns don't need to miss out - it just means the pitch will have to be placed on an angle so there is room to play. Just make sure the pitch is in a position that limits the chances of any sixes hitting cars or windows.
Mowing the lawn
The last step to cricket pitch creation is mowing your lawn. You can experiment with your grass, but the pitch will require you to drop the height of your mower to achieve more bounce. Keep the rest of your lawn at its usual height and be sure to mow it regularly. When you're ready to bring your lawn back to its pre-MCG days, aerate your pitch and spread Scotts Lawn Builder + Organics Lawn Topdress Mix and Underlay Soil to give back much-needed nutrients after a summer filled with cricket fun.