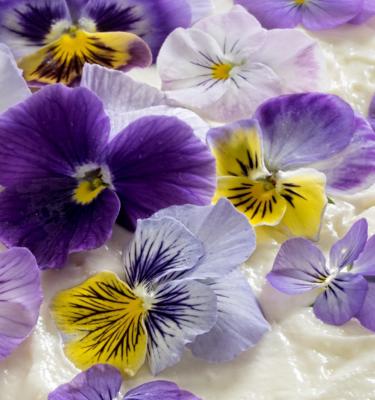 Vanilla Cake with Buttercream and Edible Flowers
Edible flowers can be used to garnish cakes, cupcakes, cheesecakes, even biscuits and cookies.
The options are limitless and the results are always impressive!
Before you begin making the cake, read these tips on working with edible flowers:
Make sure the flowers you plan on using are safe for eating. They should be non-toxic, and not sprayed with any pesticides. We've put together some of our favourite edible flowers in our guide here.
Flowers tend to discolor and wilt if not used quickly. Keep them in a dry bag or container in the fridge for a maximum of 1 - 2 days.

Fresh flowers for cakes need to be washed and trimmed before placement. Use a bowl to bathe and clean small and delicate flowers. Larger flowers can be washed under the tap (just keep the spray on a low setting). Dry on a kitchen towel.
---
Recipe
Ingredients
For the vanilla cake:
2 ¼ cups of flour
2 ¼ teaspoon baking powder
¾ tsp salt
¾ cup unsalted butter, softened to room temperature
1 ½ cups caster sugar
3 large eggs at room temperature
1 ½ teaspoon vanilla extract
1 cup buttermilk or whole milk
For the vanilla buttercream:
1 and ½ cups unsalted butter, softened to room temperature
5 and ½ cups icing sugar
1/3 cup whole milk
1 ½ teaspoon vanilla extract
Pinch of salt
To garnish:
Edible flower of your choice, see some great options here
Method:
Vanilla cake:
Preheat oven to 175 C. Grease and flour two 8″ cake rounds and line with parchment paper.
In a medium bowl, whisk flour, baking powder, and salt until well combined. Set aside.
Place the softened butter and sugar in a large bowl. Use an electric hand whisk to cream the butter and sugar until pale and fluffy (about 3 minutes). This can also be done using a stand mixer with a paddle attachment. Add the eggs one at a time, beating for about 30 seconds after each addition.
Add vanilla essence, and fold through.
Alternate adding the flour mixture and buttermilk, beginning and ending with flour (3 additions of flour and 2 of milk). Fold together using a spatula till all the flour is incorporated.
Divide the batter between the two prepared 8″ cake pans. Bake for around 30 – 35 minutes or until a toothpick or skewer inserted into the center of the cake comes out clean.
Let the cakes cool in the pan for 5 – 10 minutes, then turn on to a wire rack to cool completely. The cakes must be completely cool before frosting. Use a serrated knife to cut off the top of the cake.
Vanilla buttercream frosting:
Place the butter in a large bowl. Use an electric hand whisk to cream the butter until creamy, about 2 minutes. This can also be done using a stand mixer fitted with the whisk attachment.
Add powdered sugar, milk, vanilla extract and salt and beat on low speed till combined. Increase speed to high and beat for about 2 – 3 minutes till the buttercream is light and fluffy. Don't add all the powdered sugar in one go. Start off with adding 3 cups, and then add ½ cup at a time till desired consistency is reached.
TIP: If frosting is too thin, add more sugar and if it's too thick add more milk.
Assembly:
Place one layer of the vanilla cake on a cake stand or serving plate. Spread 1 cup of buttercream on top, and then top with the second layer of cake. Use another 1 – 1 ½ cups of buttercream to crumb coat the cake. Place the cake in the fridge for 20 minutes to chill.
Once the crumb coat has set, frost the top and sides of the cake with the remaining buttercream. Smooth with a spatula or a bench scraper.
Once the cake is frosted, start adding your edible flowers. Flowers can be added on the top of the cake and pressed on the sides.