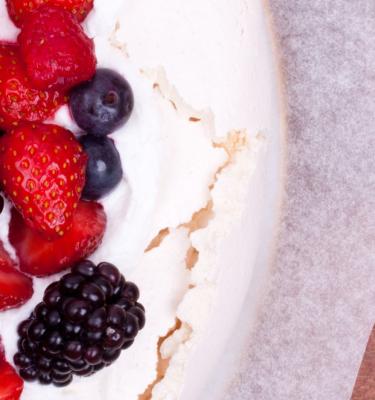 Aussie Pavlova with Homegrown Toppings Recipe
The classic pavlova is a meringue-based dessert made from egg whites.
In this easy to follow recipe, the crisp pavlova base is topped with whipped cream and fresh toppings from around the garden.
Ingredients
For the pavlova base:
5 egg whites (at room temperature)
Pinch of salt
1 cup of caster sugar
2 teaspoons of cornflour
1 teaspoon of white vinegar
1/2 teaspoon of vanilla extract
For the toppings:
1 cup of thickened cream
1/2 cup of icing sugar
1 teaspoon of vanilla extract
1 cup of fresh strawberries (hulled and sliced)
1 cup of fresh blueberries, raspberries and blackberries
Method
For the pavlova base:
1. Preheat the oven to 120 °C and place a sheet of baking paper on a sheet pan. Use a plate or cake pan to draw a 9-inch circle on the paper. Turn the paper over so the circle is on the flip side.
2. Combine the egg whites and salt in a large bowl. Beat the egg whites with a handheld electric mixer on high speed until firm or for about 1 minute. With the mixer still on high, slowly add the sugar and beat until it peaks (roughly 2 minutes). The peaks should be shiny and firm - they shouldn't move when the bowl is tilted.
3. Sift the cornflour onto the beaten egg whites. Add the vinegar and vanilla extract. Fold in lightly with a rubber spatula - do not beat!
4. Pile the meringue into the middle of the circle on the baking paper and smooth it within the circle, making a rough disk. Pile more meringue mixture with a spoon and smooth it with a spatula.
5. Bake in the oven for 1 1/2 hours or until the meringue has turned crispy on the edges. Turn off the oven, keep the door closed, allowing the meringue to cool completely in the oven. The goal is for it to be crispy on the outside and soft on the inside. If making the meringue base in advance, ensure that you store it in an airtight container and away from any moisture.
For the toppings:
1. Place thickened cream into a bowl, using a stand or handheld mixer, whip the cream until it makes soft peaks. When it starts to thicken, add the icing sugar and vanilla extract and continue to beat until firm - be careful not to overbeat it.
2. Place the meringue base on a large plate or serving dish. Dollop the sweetened whipped cream on top and swirl with a knife. Add sliced strawberries and other seasonal fruits, such as blueberries, raspberries, kiwifruit and peaches.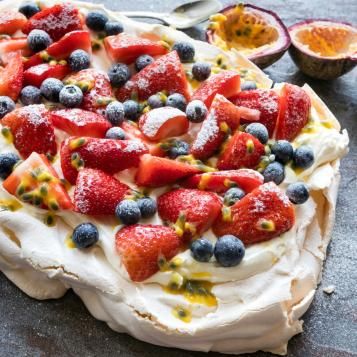 Looking for more inspo?
Everyone knows that it's what's on top that matters... 
Pavlova tastes best when homemade and adorned with toppings of homegrown berries, fruits & herbs! Discover delicious pavlova toppers fresh from the garden here.