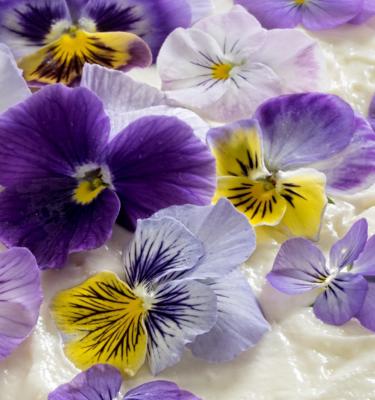 Edible Flowers for Cakes, Cocktails and More!
Take inspiration from nature and add a floral touch to your cakes, cocktail and culinary creations with the use of edible flowers!
Flowers are more than just a decorative garnish - they bring unique flavour, texture and aroma. Add a few flower petals to jazz up your weeknight dinner or weekend cocktail. Plus, they make for a stunning, colourful addition in your kitchen garden!
---
Our Favourite Edible Flowers
Calendula - leaves have a bitter taste and used in salads, and the petals can be used as garnish
Dahlia - most often used as garnish for drinks and desserts
Roses - one of the most popular edible flowers, used in a wide variety of recipes
Pansies - with a mild flavour and striking blooms, it's a common garnish that we all love
Lavender - this aromatic herb is used in infused syrups, tea and in baked goods
Hibiscus - a tangy taste which makes it perfect for drinks, be it tea and/or cocktails
Nasturtiums - has a peppery flavour that goes great in savoury recipes, like salads
Chamomile - popular to make tea with and to flavour baked goods
---
How To Grow Edible Flowers
You can easily grow your own edible flowers* in your backyard veggie patch or, if space is limited, on your balcony or kitchen windowsill.
You can plant seeds or bulbs of your favourite edible flowers in Scotts Performance Naturals Premium Potting Mix. This potting mix is made from 100% natural ingredients and boosted with NatureN, a natural source of nitrogen that helps grow large, healthy blooms.
As your flowers continue to grow, give them a feed with Scotts Performance Naturals All Purpose Fertiliser to ensure they have all the nutrients they need for sustained growth. It's important to make sure that your flowers aren't treated with anything toxic – this means no harsh chemicals or pesticides.
---
How To Use Edible Flowers
Before you start impressing family and friends with your naturally decorated creations, make sure you rinse the flowers with clean water!
It's best to remove the stamen and styles from the flowers before eating, as pollen can cause an allergic reaction in some people, especially those suffering from hay fever.
 
Make a simple syrup
Turn your favourite flower into a delicious and fragrant syrup that can be used to make a wide variety of cocktails such as a hibiscus margarita or a lavender fizz made with lavender syrup, white rum and soda. Mix equal parts water and sugar in a saucepan until the sugar melts. Turn off the heat, and add flowers. Let the mixture cool and steep for an hour, and then strain into a bottle. It can be kept in the fridge for about two weeks.
 
Muddle the flowers
Edible flowers can be muddled just like mint is muddled to make a mojito. Place the edible flowers in the bottom of a tall glass or a cocktail shaker. Add a splash of water and sugar. Use a muddler or wooden spoon to crush the flowers so that their aroma is released. Add the rest of the ingredients, and then strain into the glass of your choice.
Garnish with them
A great way to elevate a homemade cake is to garnish it with fresh, edible flowers! Check out our Vanilla Sponge Cake with Edible Flowers recipe to find out more about our favourite recipe.
 
Dress up your ice cubes
Impress your guests by serving them refreshing drinks with floral ice cubes. Take a standard ice cube tray, add flowers, followed by water, and then freeze. These ice cubes are perfect for cocktails, for lemonade, or just added to water. As the ice melts, it also adds a hint of flavour to the drink.
---
*Safety Information
Please ensure that the flower you're using is safe and free from any toxic chemicals. Certain garden flowers such as tulips and daffodils are toxic to humans. Research which part of the flower can be eaten, and whether the flowers need to be cooked or they can be eaten raw. Also consider allergies as people suffering from asthma or those allergic to composite-type flowers may have a reaction to specific varieties of edible flowers.