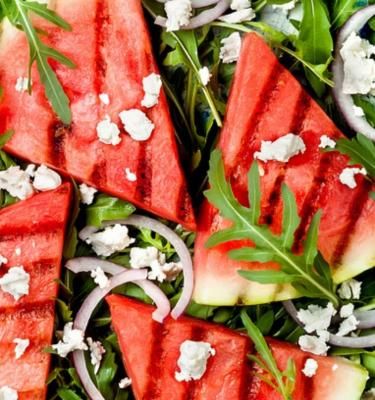 Watermelon, Feta & Mint Salad Recipe
If you have fresh mint in your herb garden, or are lucky enough to have watermelon growing at home - then this is the perfect Summer dish to serve at your next backyard barbeque.
The sweetness of the watermelon is complemented by the char from the grill and the saltiness of the feta. The mint leaves add a burst of freshness that brings it altogether!
---
Recipe
Ingredients
A watermelon
1 tablespoon olive oil
1/2 a cup of small mint leaves, roughly chopped
60g of feta cheese, crumbled
1/4 - 1/2 tsp of salt
1/4 - 1/2 tsp of black pepper
Method
Cut the watermelon in half lengthwise, then halve again to make four quarters. Cut 6-8 slices of watermelon from each quartered pieces;
Brush both slides of the watermelon slices with olive oil;
On a hot grill, place the watermelon, flipping once, until grill marks appear and the watermelon is a little warm and softened. This will take about 2-3 minutes each side;
Once the watermelon is grilled, you can chop it into bite-sized chunks;
Put the watermelon in a salad bowl, top with crumbled feta and roughly chopped mint leaves. Season with salt and pepper;
Gently mix everything together, and voila!
---
Other variations to try
Create a more substantial salad by adding sliced red onion, cherry tomatoes, or a mix of bitter salad greens, like rocket. Pomegranate is also a great addition!
Change up the seasonings by drizzling over some balsamic vinegar or honey.