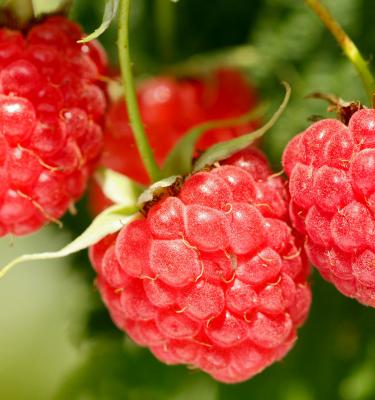 How to Grow Raspberry Trees
What could be better than a bowl of sweet, fresh-picked raspberries in summer? These delicious fruits are easy to grow in a sunny garden, and if you're short on space you can even grow raspberries in a pot. Enjoy them fresh in summer and autumn, and freeze them for use in winter pies and tarts.
---
Raspberry varieties - Australia
Raspberries are divided into summer-fruiting and autumn-fruiting types. Autumn-fruiting varieties are a good choice for novice gardeners, as they are less prone to pests that eat the fruit and are also easier to prune than summer-fruiting types. Here are some of the most popular varieties:
Summer-fruiting raspberry trees
'Chilcotin' – large berries of medium, small second crop in autumn red
'Chilliwack' – mid to dark red berries, small second crop in autumn, almost thorn-free caneses
'Nootka' – bright red berries of medium size, minimal autumn crop
'Willamette' – small-medium, dark red fruit in mid summer
Autumn-fruiting raspberry trees
'Autumn Bliss' – compact, ideal for containers
'Heritage' – crops from late February into autumn, strong canes, berries become smaller as season progresses
'Caroline' – mid to deep red fruiting over extended period from late summer into autumn
---
What you'll need for growing raspberries:
Secateurs
Gloves
Suitable variety of raspberry plant
Wooden posts 2.4m long (if planting in ground)
Wire (if planting in ground)
Garden fork
Garden spade
---
How do you grow raspberries?
Raspberry trees do best in soil that is moist but well-drained and slightly acidic (pH 5.5 – 6.5). If your soil is alkaline, you will have more success growing raspberries in pots.
Plant raspberry trees in winter while they are dormant in a sunny, sheltered spot, about 50cm apart, in rows spaced 1.5-2m apart.
Before planting your raspberries, dig the soil over to clear it of weeds and dig in plenty of soil improver to improve the soil structure.
Provide a support framework. Knock sturdy 2.4m high posts into the ground at the end of each 2-3m row and stretch 3 rows of heavy-gauge wires between the posts, spaced about 60cm apart.
Dig a trench 45cm (18in) wide and 20-25cm deep and cover the base with a good layer of compost.
Plant the canes, allowing 50cm between each cane. Add a handful of controlled release fertiliser for fruit when planting each cane.
Backfill the trench with soil mixed with organic matter. Gently firm in a round the roots and water in well.
Cut the canes down to 25cm above ground level, to encourage them to produce plenty of fruit-bearing shoots.
Growing raspberries in pots
Choose a large container, at least 60cm in diameter.
Fill the container with a well-draining potting mix.
Plant up to six raspberry canes per pot, spaced equally around the edge of the pot.
---
Raspberry plants care
Tie the canes of raspberries to the wires with soft twine as they grow.
Water raspberry plants in dry periods, and water container-grown plants regularly to prevent the potting mix from drying out. Feed container-grown plants fortnightly with a fruit fertiliser once the fruits start to develop.
Keep the raspberry plants clear of weeds. If using a hoe, take care not to damage the roots just below the surface of the soil.
---
How to prune raspberries
Prune summer-fruiting raspberries after the last fruit has been picked. Cut down all the dark brown canes that have already fruited to ground level. Leave 6-7 of the strongest new canes that have grown in the current year as they will fruit in the following year.
To prune autumn-fruiting raspberries, cut all canes back to ground level in mid winter (July).
---
Common raspberry pests and diseases
Raspberry cane blight

Raspberry cane blight is one of the most serious raspberry diseases. It is a fungal disease that causes canes to die back, turning dark brown and breaking easily.

Remove and destroy any affected stems, cutting back below soil level. 
Water plants regularly and mulch to reduce drought stress, which can make plants more prone to infection.