Scotts Everydrop™ Premium Granular Soil Wetter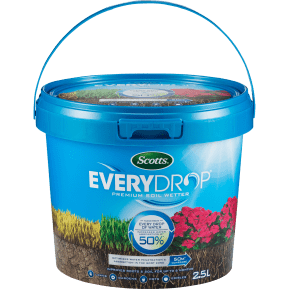 Scotts Everydrop™ Premium Granular Soil Wetter
Make the most of every drop of available water with Scotts Everydrop granules, designed to maximise every drop of water, consistently and evenly. It's safe to use in every garden situation - on pots, lawns and garden beds.
Features
Improves water retention
Helps water disperse evenly into dry soils that repel water, allowing soil particles to absorb moisture down into the root zone
Promotes maximum rehydration
The better hydrated the soil, the stronger and deeper roots will be and the healthier the soil
Long term 100% non-toxic
Starts working immediately and lasts for up to 6 months. Totally safe and non-toxic to all plant types
Suitable For
Garden beds and lawns, including vegetable and herb gardens
Pots, planters, hanging baskets and other containers that dry out quickly
Safe to use around new plants - will not burn
How to Use
Garden beds & Lawns
Sprinkle Scotts Everydrop granules over garden soil and lawns
Water in thoroughly to initiate the wetting agent process
Pots, Containers & Baskets
Apply to the surface or mix through potting mix when planting at the rates suggested below:
250mm (10 inch pot) - 10mL
300mm (12 inch pot) - 20mL
400mm (16 inch pot) - 40mL
Water in thoroughly
When to Use
For maximum penetration of garden beds, lawns and pots, apply Scotts Everydrop granules before Summer and let natural rains water in.
Re-apply every six months or more regularly if required - when you see obvious areas where water is pooling on the surface or not soaking in within a few minutes.
Safety Information
Safety first: Read the instructions on the product packaging before use and take particular note of any warnings or cautions on the label 
We recommend you always wear gloves when gardening and handling products
Technical Details
Totally safe and non-toxic to all plant types
Health and Safety
Always read the pack label and product instructions carefully before use. For further information relating to product safety please review the product data safety sheet link below.

Scotts Everydrop™ Premium Granular Soil Wetter
2.5L Tub (other sizes available)