Make every drop count
Water is precious all year round, which is why we need to make the most of watering, rainfall and liquid feeding. Our Scotts Everydrop range works to utilise every drop of water to grow strong, healthier plants and lawns. One application increases water absorption by 50%* to build deeper root systems, improve soil health and protect your plants in the tougher dry and drought conditions.
Everydrop Wetting Agent
Grow healthier plants in less water! Scotts Everydrop Wetting Agents increase water absorption to your potted plants, lawns and garden beds by 50%*. Our easy to use granular and liquid variations work immediately, getting water directly to the root zone. No more run off, no more wasteful overwatering even for hard to wet sandy, clay or compacted soils.
Everydrop Water Storing Crystals
With the ability to absorb and hold up to 100 times their own weight in water, Scotts Everydrop Water Storing Crystals release water back to plant roots. Reducing the amount of time and water needed to adequately sustain plants.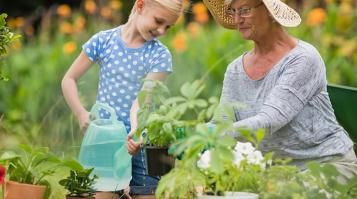 We've uncovered the simplest ways you can dry proof your yard to ensure it remains looking fresh and healthy.
Wanting lush green lawn all year round doesn't need to be a dream. It also doesn't need to be a household chore that requires a lot of time, effort and products. Our guide has everything you need to...