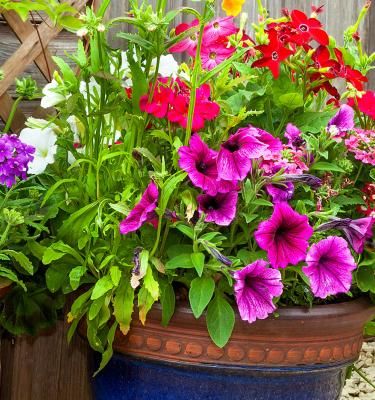 Garden planters and potting plants
There's one group of satisfying jobs that we love doing in Spring and Summer – and that's potting up seedlings and rooted cuttings and planting up Summer containers.
There's so much satisfaction from growing your own plants from seeds and cuttings. And whose garden is complete without fabulous displays from planted up pots, tubs and hanging baskets?
---
Get to the root of the matter
When we look at lovely plants growing in the garden, all we see are the colourful flowers or the attractive flowers – or we lick our lips and think about eating them if they're fruit or veg. We rarely think about what's going on down below in that dark, murky place called soil! Yet, down there is the powerhouse of the plant – its root system.
The roots are the most important parts of all plants. You get the roots established quickly and growing away well, and the rest of the plant will follow. It will flourish and perform to its maximum. Getting the roots established quickly also means the plant doesn't sit and sulk, but starts growing and developing immediately. It is while they're sulking that plants are more prone to poor weather conditions, widely fluctuating environmental conditions and pests and diseases.
And if the roots are the most important part of the plant, then what they're growing in is of vital importance. A good 'open' compost that holds enough moisture but is free draining, so it doesn't become waterlogged, is essential. A good mix of nutrients to ensure the plants get off to the best possible start is also a prime essential. So any compost with 'root boosting power' is the best you can use with your young plants.
---
Potting up

For seedlings, rooted cuttings and young plants, the compost should be reasonably fine with few large lumps. I always rub mine between my fingers – a bit like combining the flour and butter when making pastry.
This not only breaks up the lumps but also helps aerate the compost – important since roots need air to breathe.
---
Pots, tubs, planters and baskets
Apart from being open to boost root growth, compost for summer plants needs to be able to do two other things: hold enough moisture so it doesn't dry out quickly and have plenty of nutrients to get all those hungry summer-flowering plants off to the best possible start. And yes, water and nutrients are absorbed by the roots – just proving how important they are.
And, of course, it's not all about summer flowers. Just about every type of plant – including fruit, vegetables and herbs – can be grown in a container. Just match the size of the container to the size of the plant – actually, the root size of the plant.
---
Houseplants

Sometimes I feel very sorry for houseplants. After all, they're outdoor plants in their natural habitat, and we grow them in conditions that they would never normally experience. And they often sit neglected in a dark corner or drowned through overwatering.
One way to invigorate them is to re-pot them. But repotting won't save plants that are completely past their best and on their way out. In fact, overpotting sick plants can be the final death knell – speeding their journey to the compost heap!
Only repot houseplants when they're in active growth – spring and early summer are the best times – winter is an absolute no-no.
Only re-pot into the next size pot – going several sizes up can lead to root rotting.
Flowering houseplants usually flower better if they are kept slightly potbound. This root restriction makes them flower more profusely.