Growing garlic at home is now very popular. It's an easy vegetable to grow – just plant a garlic clove into the soil, wait a few months and you'll be rewarded with a bulb of up to a dozen or more cloves ready to use in the kitchen.
---
How to grow garlic
Garlic varieties
There are 2 main types of garlic – 'soft-necked' and 'hard-necked', which relates to the stalk that grows up from the garlic bulb. Soft-necked garlic has a strong flavour and stores well, whereas hard-necked garlic is milder tasting and best used soon after harvest, as it doesn't keep well.
Hardneck
Named after the way the garlic grows – this type of garlic produces a scape (flower stem) that can be used in some dishes, such as salads. There are a number of hardneck varieties available, each which are suited for their own purposes. For example, 'Chesnok Red' is creamy in texture and is perfect for roasting. If you're looking for a hardkneck that can be planted in spring as well as autumn, get your hands on an 'elephant garlic', which produces huge bulbs, as the name suggests. It is useful to note that hardneck varieties do not store as well as softkneck varieties.
Softneck
Softnecks do not produce a scape, and varieties such as 'Albigensian Wight' can keep for ages. If you're looking for a strong flavour choose 'Spanish Roja' – an old variety with easy-to-peel cloves. For a milder garlic flavour, choose 'Germidour'.
Other good varieties to try in the UK include 'Arno', 'Cristo', 'Early Wight', 'Long Keeper', 'Purple Wight' and 'Solent White'.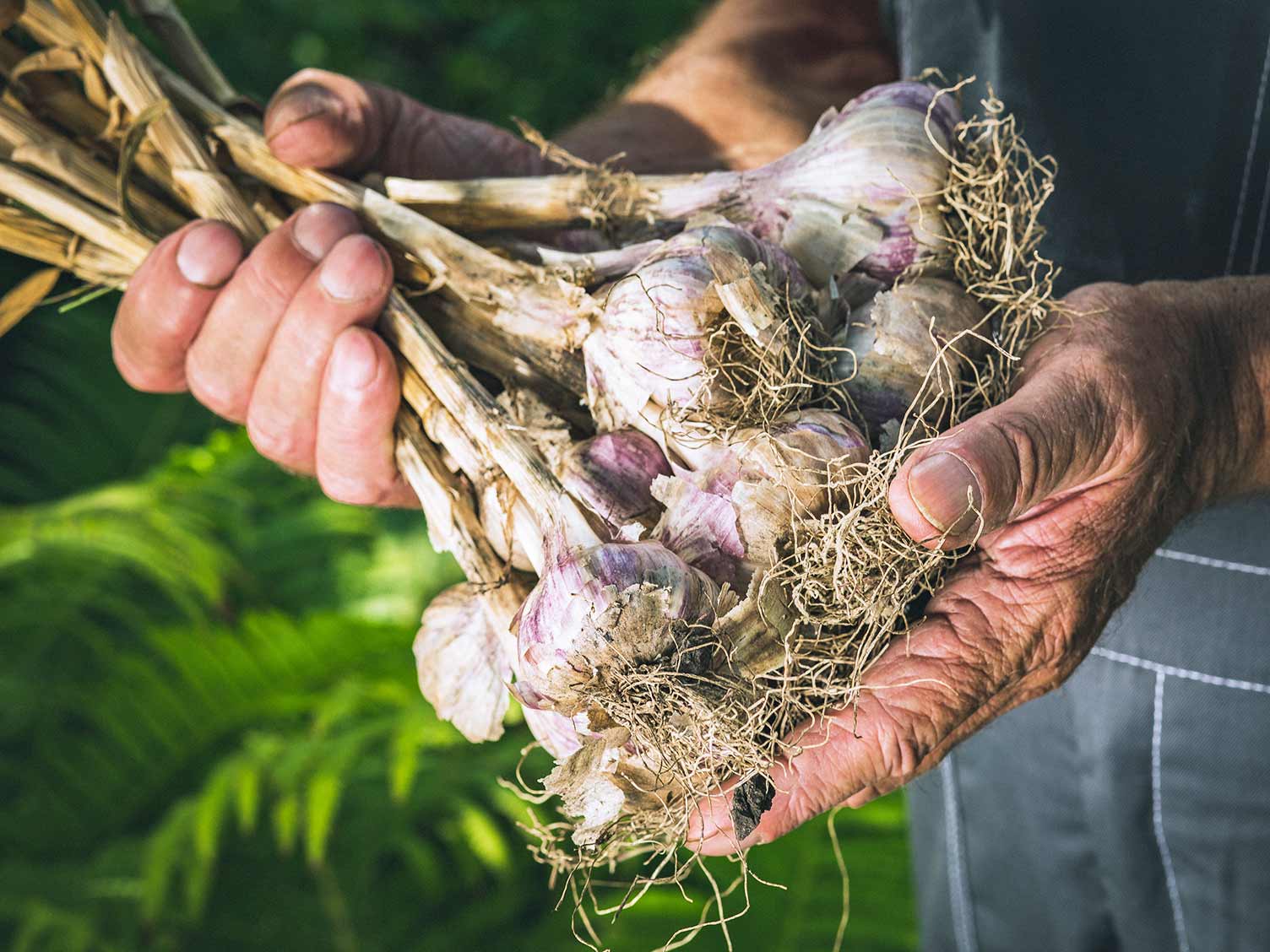 Planting garlic
Garlic is bought in cloves, which can either be planted in autumn (October/November) or in February/March. However, always choose a variety that is suited to either of these planting times. Garlic planted in autumn usually produces better and bigger yields
Birds may be a problem lifting the newly planted cloves, so carefully remove any loose skin at the top of the clove before planting.
For more help and advice try our how to grow garlic guide.
---
How to care for garlic
Garlic is a low-maintenance vegetable to cultivate.
Check the cloves regularly for a few weeks after planting to make sure they haven't been disturbed by birds; cover with netting if birds are a problem.
Harvesting
Garlic planted in autumn will be ready for harvest in June and July, that planted in spring will be ready slight later.
| | |
| --- | --- |
| Flowering season(s) | Spring, Summer |
| Foliage season(s) | Spring, Summer, Autumn |
| Sunlight | Full shade, Partial shade, Full sun |
| Soil type | Chalky, Clay, Loamy, Sandy |
| Soil pH | Neutral |
| Soil moisture | Moist but well-drained |
| Ultimate height | Up to 45cm (18in) |
| Ultimate spread | Up to 10cm (4in) |
| Time to ultimate height | 6 months |