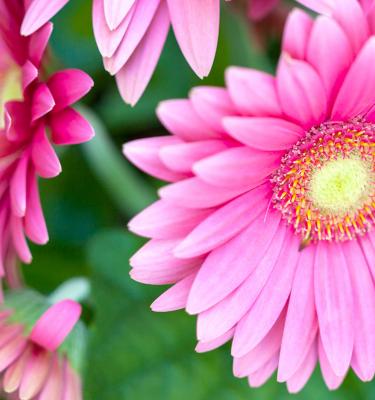 Gerbera, transvaal daisy (Gerbera)
Gerberas produce lots of brightly coloured flowers over several months. Most types are varieties of Gerbera jamesonii, which can flower at any time of year and come in a range of colours – usually reds, oranges, purples, yellows, white or cream.
Gerbera jamesonii is not cold hardy and is grown as a houseplant or in a warm greenhouse or conservatory. But there are now also, smaller flowered hardy varieties that are perfect for beds, borders and containers outside.
Gerberas also make excellent cut flowers for the home and for use in floral displays and arrangements.
---
How to grow gerberas
Cultivation
Indoor gerberas
Indoors, gerberas need a position in good overall light, but out of strong, direct burning sunlight.
They are fairly tolerant of a wide range of temperatures from 10-18°C (50-65°F). Cooler temperatures will ensure the flowers last for longer and increase the chances of repeat flowering.
They can be moved outside to a warm, sunny patio in summer – but make sure you bring them back indoors before the weather turns cold in early autumn. This will help promote new flower buds.
Hardy gerberas
Plant hardy gerberas in a sunny, warm, sheltered position. They need a fertile, moist but well-drained soil with lots of added organic matter. In heavier soils, add grit or sharp sand to the soil and planting mixture to improve drainage.
Gerbera varieties
Indoor gerberas
Named varieties of Gerbera jamesonii are rarely available. Most garden centres and nurseries usually just offer them by flower colour.
Hardy gerberas
There are two main series of outdoor, hardy gerberas. Both come in a range of varieties with different flower colours:
Gerbera Everlast Series They flower from April to July. Height and spread 30cm (12in).
Gerbera Garvinea Series They flower from April until the first frosts. Height 35cm (14in), spread 30cm (12in).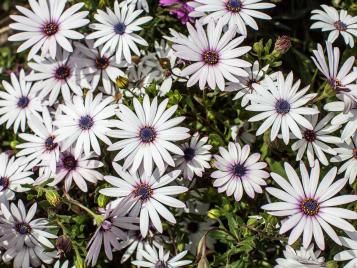 Planting gerberas
Indoor gerberas
Indoor plants need a good, well-drained, multipurpose compost or potting compost.
Hardy gerberas
Hardy gerberas should be planted in spring.
Dig over the planting area, incorporating lots of organic matter – such as compost, leafmould or well-rotted manure – plus grit or sharp sand in heavy soils. Dig a good sized hole big enough to easily accommodate the rootball.
Place the rootball in the planting hole and adjust the planting depth so that the crown of leaves is slightly above the soil level, so that soil does not wash into the crown and increase the risk of rotting.
Mix in more organic matter with the excavated soil and fill in the planting hole. Water in well, apply a granular general feed over the soil around the plant and add a 5-7.5cm (2-3in) deep mulch of well-rotted garden compost or bark chippings around the root area.
Suggested planting locations and garden types
Houseplant, indoor plant, summer patio plant, flower borders and beds, patios, containers, city and courtyard gardens.
---
How to care for gerberas
Indoor gerberas
Water moderately when plants are in growth in spring and summer and when flowering, but more sparingly at other times. Avoid overwatering as this can lead to rotting. It's best to water from the bottom, or around the sides, rather than over the leaves, as this can encourage fungal diseases.
Feed regularly during spring and summer and when plants are in flower. A high potash plant food will help encourage further flowering.
Stand pots on trays of moist pebbles or hydroleca to maintain humidity.
Only repot plants when absolutely essential – overpotting will reduce or stop flowers being produced. Repot in March/April into the next size pot.
Cut back flower stems as the flowers fade, cutting them back to where they join the crown of leaves.
Hardy gerberas
Feed and water gerbera plants regularly as necessary throughout spring and summer.
When the flowers fade, cut back the flower stems to where they join the crown of leaves.
Although called hardy, these gerberas will not tolerate severe, prolonged freezing winter temperatures. So, in autumn, move containers to a bright, frost-free position – preferably a cool greenhouse, conservatory or growing frame. Reduce watering, keeping the compost only just moist during winter.
Plants growing in borders outdoors may need winter protection – mulch around the plants and cover with horticultural fleece – during particularly cold periods. In particularly cold areas it is best to grow them in containers that can be moved to a frost-free position.
| | |
| --- | --- |
| Flowering season(s) | Spring, Summer, Autumn, Winter |
| Foliage season(s) | Spring, Summer, Autumn, Winter |
| Sunlight | Full sun |
| Soil type | Chalky, Clay, Loamy, Sandy |
| Soil pH | Neutral |
| Soil moisture | Moist but well-drained |
| Ultimate height | Up to 45cm (18in) |
| Ultimate spread | Up to 45cm (18in) |
| Time to ultimate height | 1-2 years |