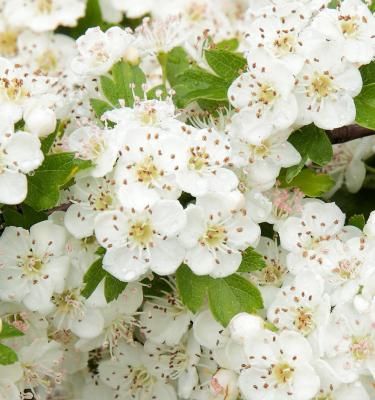 Hawthorns are very attractive, deciduous ornamental trees, many of which are suitable for even average-sized gardens. They look fabulous in late spring, covered in their flowers, and often again in autumn when glossy fruit and autumn leaf colours provide more interest and colour. Most produce glossy foliage.
Hawthorns are also known as May flowers and May blossom. The old rhyme "Here we go gathering knots of May", refers to the tradition of picking the flowers.
---
How to grow hawthorns
Cultivation
Hawthorns aren't too fussy over their position – they will grow in open, sunny sites or partial shade.
They prefer a well-drained soil enriched with lots of organic matter, which holds plenty of moisture in spring and summer, doesn't dry out or become waterlogged. They will grow in just about all soils types, including chalky and alkaline ones.
Hawthorn varieties
Crataegus laevigata Paul's Scarlet is a small, rounded tree covered in showy, light red double flowers.
Crataegus laevigata Rosea Flore Pleno is a small, rounded tree with pink double flowers.
Crataegus monogyna is the common hawthorn. It is a rounded tree with masses of cream flowers, followed by dark red berries in autumn. It can also be used as a hedging plant.
Crataegus persimilis Prunifolia forms a small, broad tree with white flowers, deep red berries and fabulous fiery red and orange autumn foliage.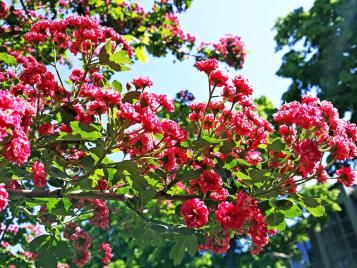 Planting hawthorns
Plant bare-root trees between November and March, and container-grown ones any time of year, but preferably in autumn, winter or spring. Dig a hole 60x60cm (2x2ft) and 30cm (12in) deep. Add a layer of organic matter – such as compost or well-rotted manure – to the base of the hole and dig in.
Place the roots in the planting hole and adjust the planting depth so that the tree is planted at the same depth as it was originally growing and the top of the roots are level with the soil surface.
Mix in more organic matter with the excavated soil and fill in the planting hole. Stake the tree with a rigid tree stake and two tree ties so that it is fully supported against the prevailing winds. Water in well, apply a granular general feed over the soil around the tree and add a 5-7.5cm (2-3in) deep mulch of well-rotted garden compost or bark chippings around the root area.If planting in the lawn, create a turf-free circular bed around the tree with a minimum diameter of 60cm (2ft).
Suggested planting locations and garden types
Flower borders and beds, focal point, city and courtyard gardens, natural and wildlife gardens, cottage and informal gardens.
---
How to care for hawthorns
Hawthorns are low-maintenance trees, needing little care and attention once established. They may need watering during prolonged dry periods in summer – particularly in the first few years to ensure they establish well. Feed with a general granular plant food in spring.
They need little or no maintenance pruning, except to remove dead, diseased or dying growth and to thin out overcrowded and rubbing branches. If pruning is needed, it is best carried out any time from late autumn to early spring.
| | |
| --- | --- |
| Flowering season(s) | Spring |
| Foliage season(s) | Spring, Summer, Autumn |
| Sunlight | Partial shade, Full sun |
| Soil type | Chalky, Clay, Loamy, Sandy |
| Soil pH | Neutral |
| Soil moisture | Moist but well-drained |
| Ultimate height | Up to 8m (26ft) depending on variety |
| Ultimate spread | Up to 8m (26ft) depending on variety |
| Time to ultimate height | 20-30 years |