The big, blousy blooms of the mophead hydrangeas are a fabulous sight in summer. Pink or blue flowers? Well, that depends on your soil – and there are delicious white varieties too.
But there is more to hydrangeas than the large mopheads. There are the more delicate looking flowers of lacecap hydrangeas and the large white or cream conical spikes of Hydrangea paniculata. For autumn colour, there's the lovely foliage of the oak-leaved hydrangea, Hydrangea quercifolia, and HydrangeaPreziosa. And there's the climbing hydrangea, actually a wall shrub, Hydrangea anomala subsp. petiolaris, perfect for growing up walls – including shady ones.
---
How to grow hydrangeas
Cultivation
Hydrangeas prefer a partially shaded position. They will grow in sunnier positions – but not very sunny, hot conditions – providing the soil is kept moist.
Hydrangeas need a moisture-retentive soil that is well drained in winter, but doesn't dry out in summer.
The flower colour depends on the acidity or alkalnity of the soil or compost. In alkaline soils (pH greater than 7) they will be pink, but in acidic soils (pH less than 7), the same plants produce blue flowers.
Hydrangea varieties
The mophead and lacecap hydrangeas are varieties of Hydrangea macrophylla. There are numerous excellent varieties with flower colour ranging from white through pale pink and deep pink to red, on alkaline soils, or pale blue to deep blue on acidic soils.
Mopheads: Amethyst, Ayesha, Deutschland, Endless Summer, Goliath, Nigra (black stems).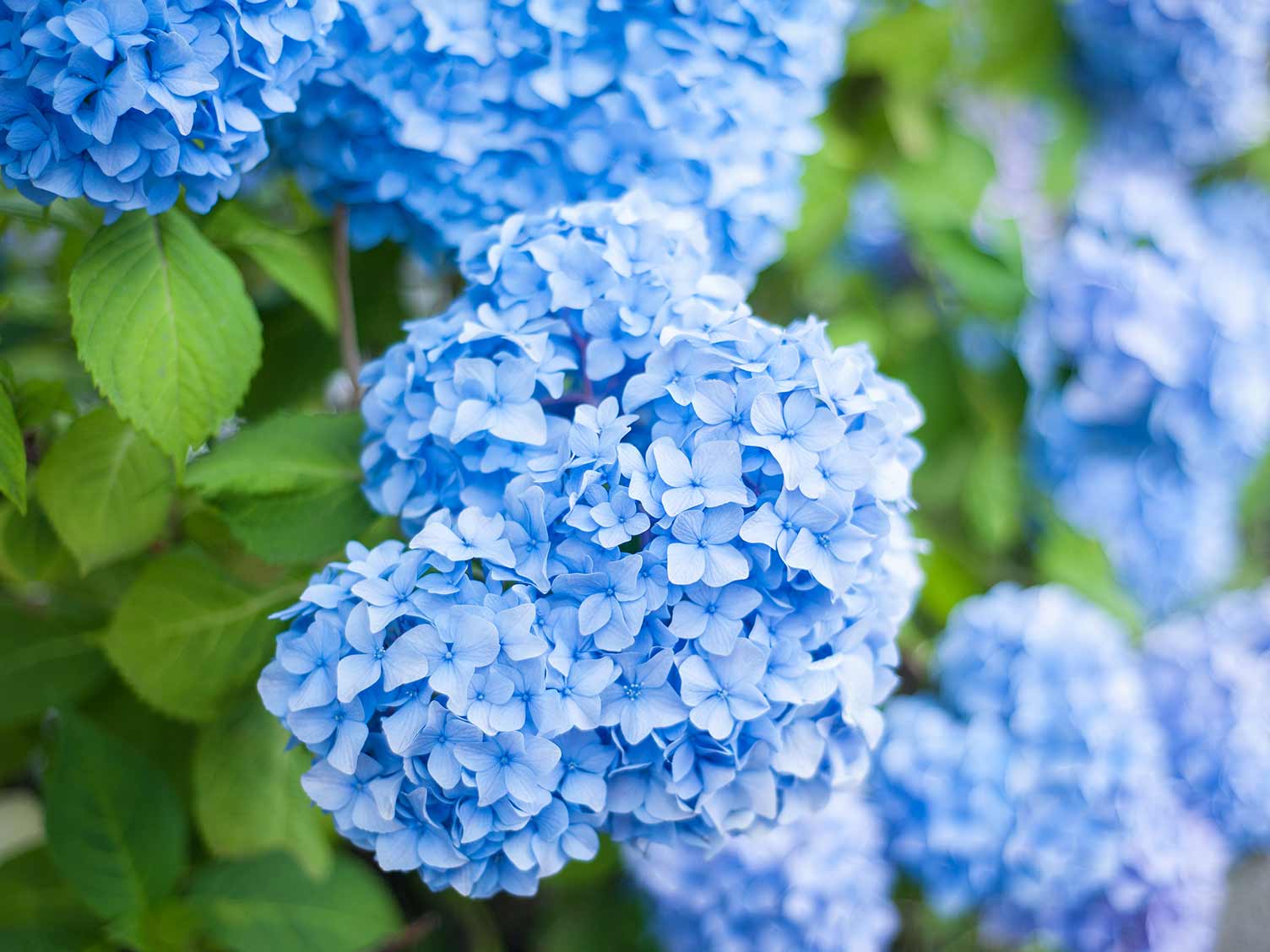 Lacecaps: Blue Bird, Geoffrey Chadbund, Lanarth White, Mariesii Perfecta, Tricolor (variegated foliage).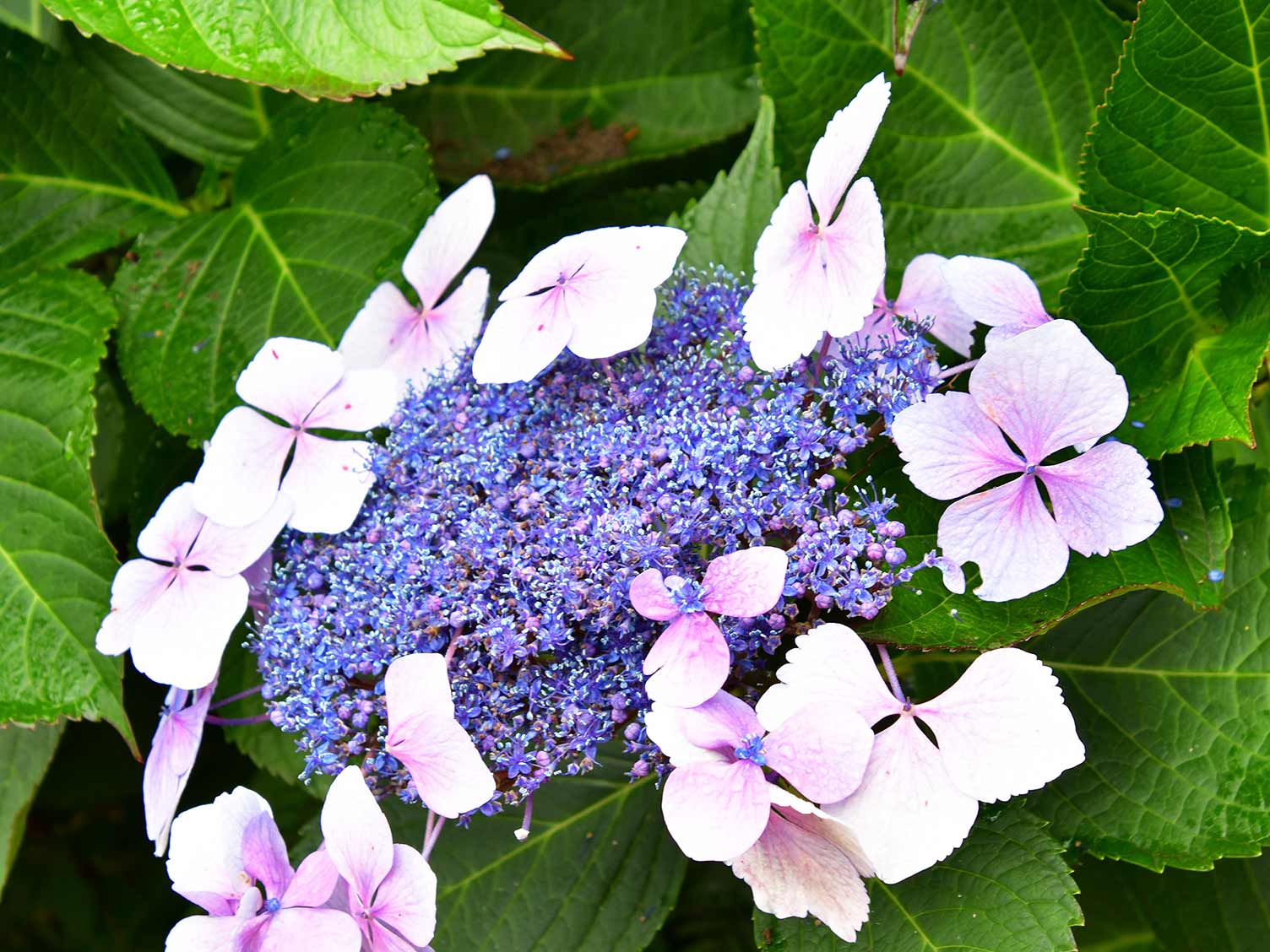 Planting hydrangeas
Container-grown hydrangeas can be planted at any time of year, although autumn and early spring are the best times. Before planting, dig in lots of bulky organic matter, such as compost, composted bark or tree and shrub planting compost.
Don't plant too deeply as hydrangeas are surface rooting, and the roots should be just covered with soil.
Add a continuous release plant food and water in well. Finally, add a 5cm (2in) deep mulch around the root area.
Hydrangeas are perfect for growing in containers on lightly shaded patios.
Suggested planting locations and garden types
Flower borders and beds, patios, containers, city and courtyard gardens, cottage and informal gardens.
---
How to care for hydrangeas
As the word 'hydra' means water, hydrangeas need plenty of moisture at the roots to grow well. They are shallow-rooted shrubs, so soon dry out during periods of prolonged dry weather.
Keep the soil and roots moist by giving a thorough watering once a week during dry weather. Mulching the soil will help retain soil moisture and keep the roots cool – as well as help to keep down weeds.
Feed with a general granular plant food or a high potash rose food in spring.
Pruning
Bush hydrangeas don't need regular pruning. As the flower buds of mophead and lacecap varieties are produced at the tips of their stems, any pruning will cut these off resulting in no or very few flowers.
If you do need to prune, to reduce the overall height for example, do it over 3 years, pruning one-third of the stems hard back to ground level or a low-growing growth point or bud in spring. These stems won't flower that year, but you'll only miss one-third of the display each year.
Hydrangea paniculata varieties can be left unpruned, or cut back annually in February/March to a low framework of branches to produce larger flowers, although this can also reduce the number of flowers.
The climbing hydrangea should have any overlong shoots cut back immediately after flowering. Doing this at other times of the year will remove the flower buds.
| | |
| --- | --- |
| Flowering season(s) | Summer, Autumn |
| Foliage season(s) | Spring, Summer, Autumn |
| Sunlight | Partial shade, Full sun |
| Soil type | Chalky, Clay, Loamy |
| Soil pH | Alkaline, Neutral, Acidic |
| Soil moisture | Moist but well-drained |
| Ultimate height | Up to 3m (10ft) depending on species and variety |
| Ultimate spread | Up to 1.5m (5ft) |
| Time to ultimate height | 5-7 years |