What is lawn aeration?
Aeration is the process of inserting small holes in the ground with the aim of improving drainage to prevent water-logging of the roots, aid air circulation and help improve nutrient uptake.
Aerating your lawn can break through the thatch layer which is the layer of intermingled dead and living stems, roots and leaves that builds between the layer of growing grass and soil underneath.
When to aerate the lawn
The best time for lawn aeration in the UK is autumn or spring. This is when the soil is mostly likely to be moist and ready for a treatment.
Keep in mind that the weather in the UK varies a great deal and aeration is very condition dependent. Never aerate when the ground is frozen or waterlogged. If it is too wet then the holes will not let water and air through as the sides of the holes will quickly seal up.
New lawns should be aerated once a year as they have a less mature root system, and although aerating helps them develop and grow you need to wait for the grass to be stronger to cope with this. Those with hard or clay soil should be aerated twice a year as they are more susceptible to compaction. For all other types of soil and lawn you should aerate at least every 2 years, but more frequently if the grass is looking unhealthy or not growing well.
Types of aerator
There are 2 different types of soil aeration and a number of different tools to use for aerating your lawn. Which one you choose can depend on the size of your lawn, your budget and the condition of your grass. Below is my guide to the different types of aeration and aerators.
Solid tine aerator
Also known as spike tine aerators, this will punch solid holes into the turf. Solid tines are useful for general aeration and can be done well with a number of cost efficient tools. The only caveat to this method is that it can sometimes cause compaction in the sides of the hole that the spike creates.
Hollow tine lawn aerator
Hollow tines actually extract the compacted soil through tubes that are driven into the turf. A hollow tine aerator removes a plug of soil which helps prevent the hole simply closing up again. The act of removing cores from the soil is aimed at lawns with severe compaction and is generally regarded as the most effective form of aeration.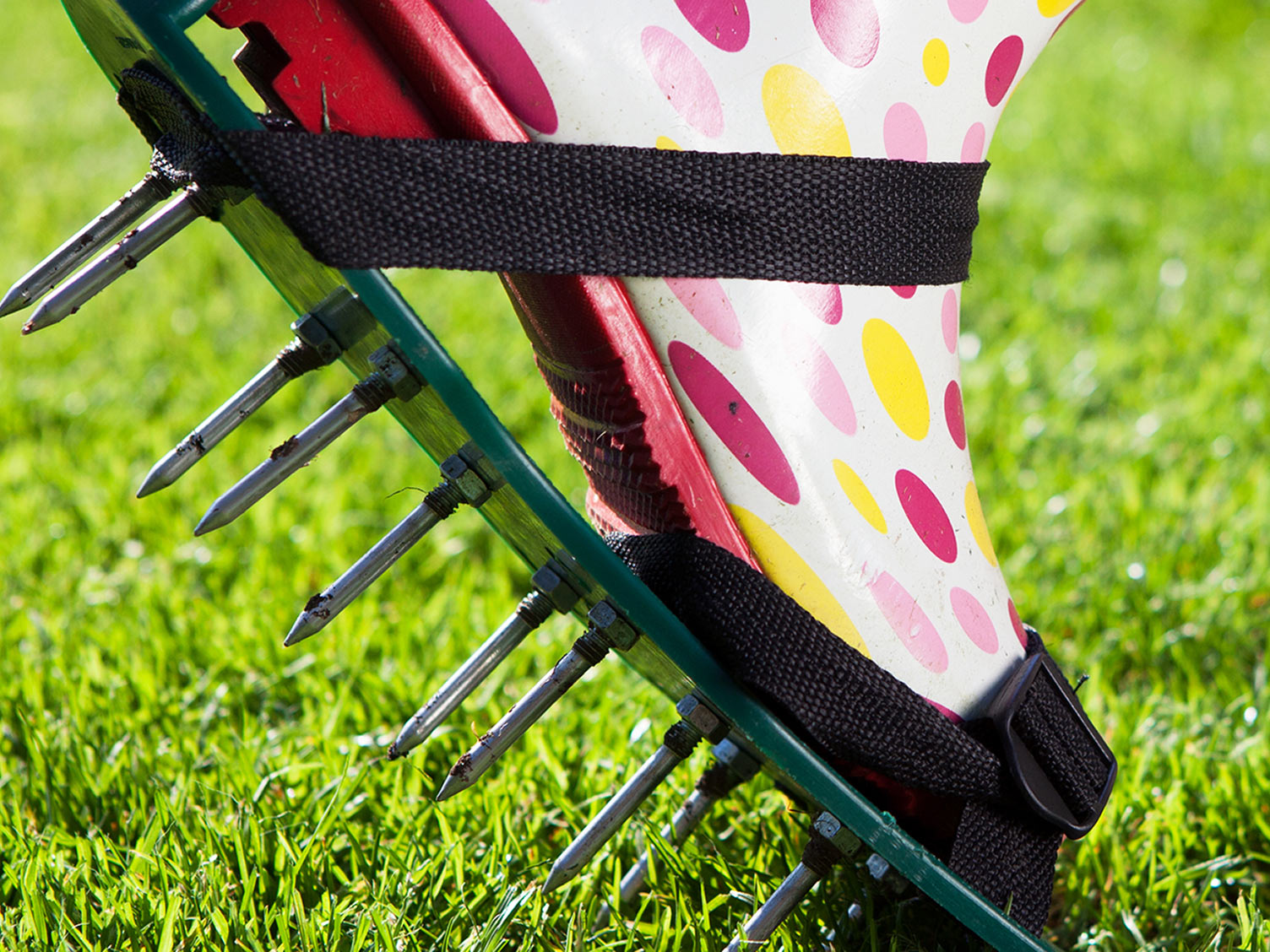 Lawn aerator shoes: These are suitable for a small garden and go over your shoe a bit like a roller skate. Aerating shoes have 1 to 1.5 inch spikes underneath them which you put on and walk around your garden, ideally side to side and then across the length, repeating this a few times. A great way to do this is wear them whilst you are mowing your lawn to ensure you cover every area.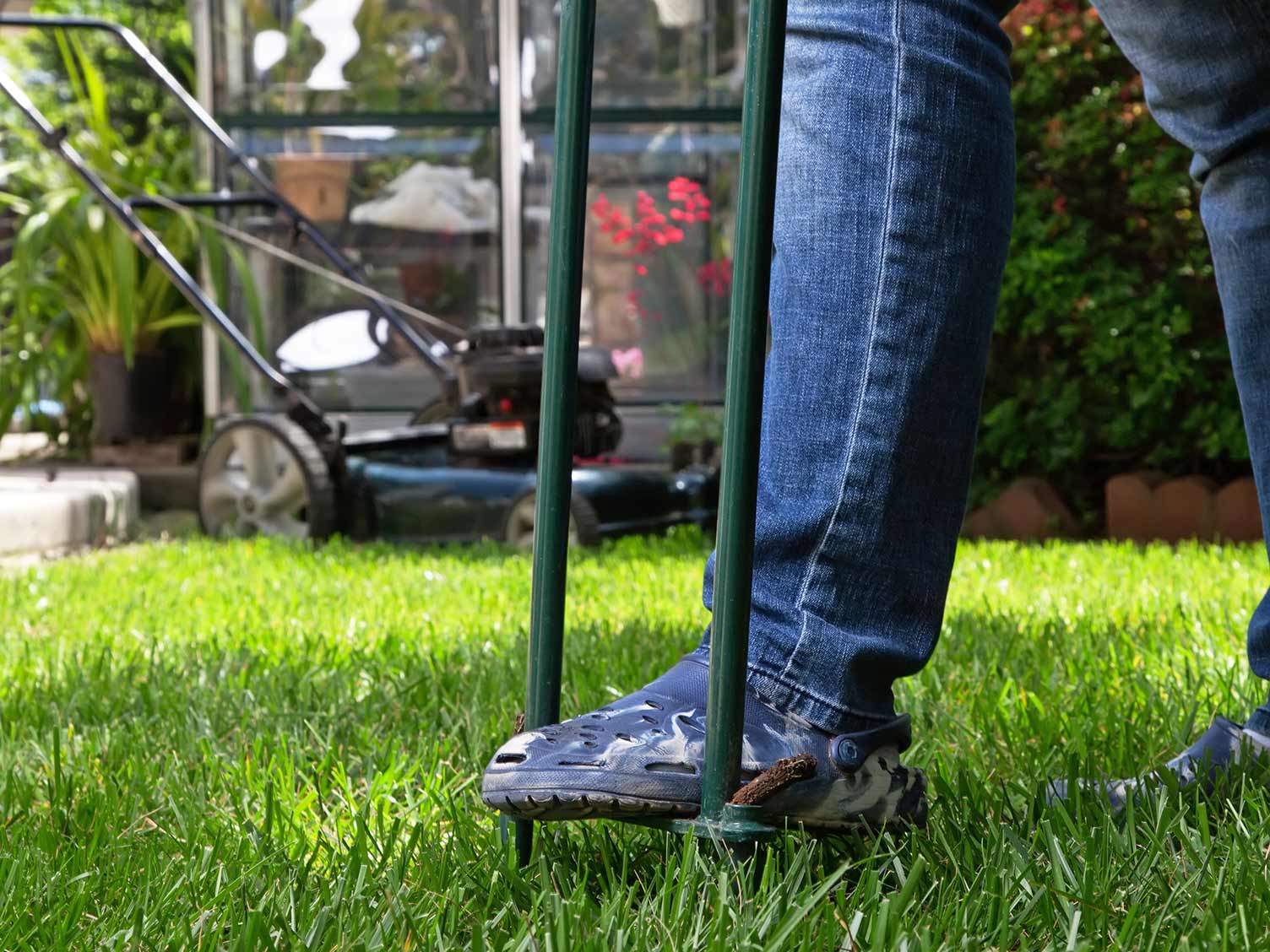 Hand aerators: These are specifically designed for a measured depth of hole into the turf. Hand aerators are cost efficient and they are also great for smaller gardens. A great example of a hand aerator is a pitch or garden fork.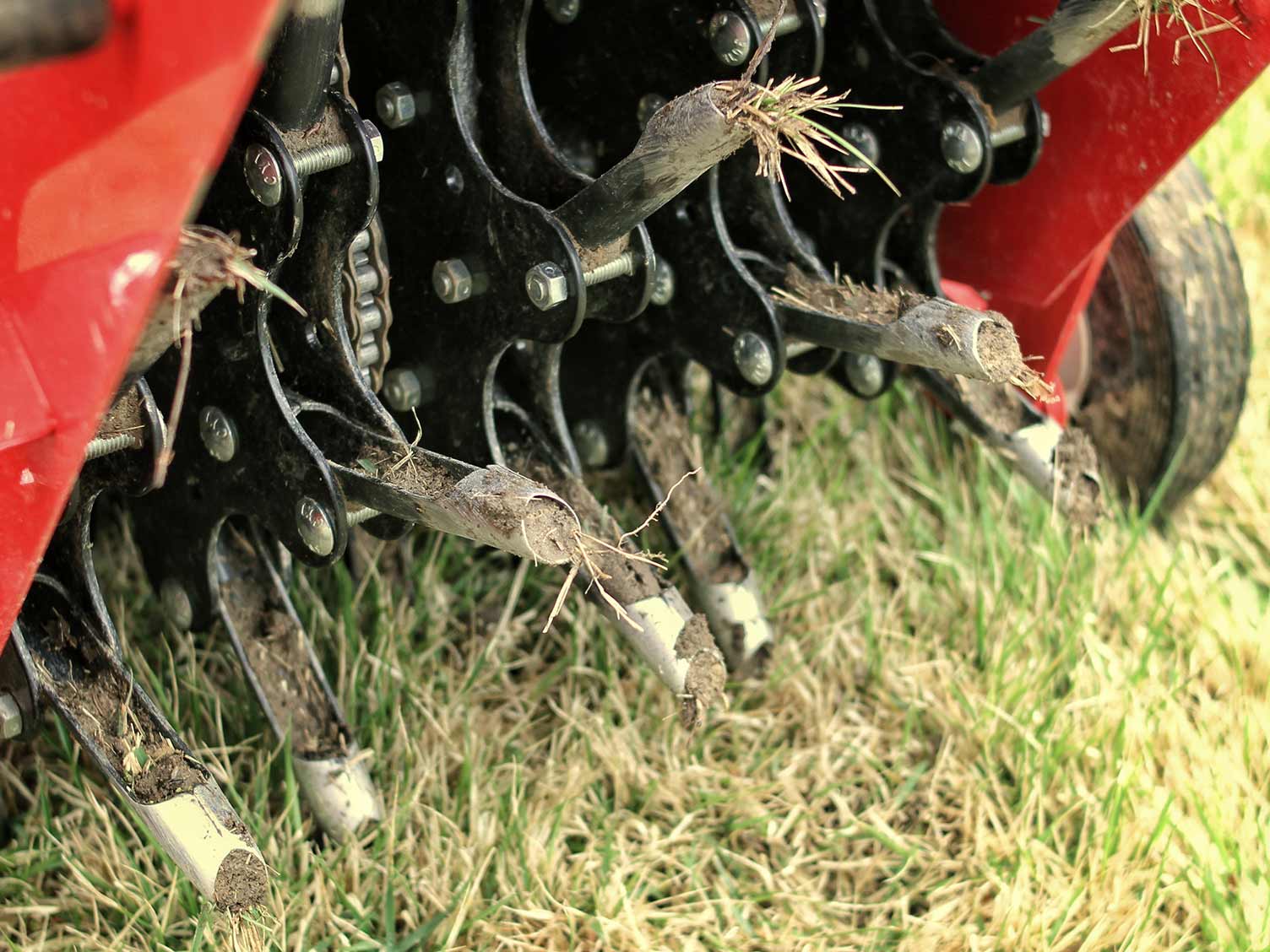 Machine aerators: These can come in two forms. The smaller machine aerators intended for small to medium sized gardens are pushed like a lawn mower. The larger machine aerators are usually pulled by a tractor and they are intended for large gardens and fields. Machines are extremely effective for aeration but they do come at a higher cost than manual tools.
How to aerate a lawn
Below we run through the process you'll need to follow for lawn aeration, beginning with preparing your grass first. Once aeration is complete, you'll need to care for your lawn afterwards to keep it healthy.
Preparing your lawn
There are a number of things you can do in preparation to ensure that aeration is as effective as possible.
Mow your lawn on a low setting the day before.
Mow again with the collector on to pick up any debris.
Water the lawn if there is no rainfall.
During lawn aeration
If you are using a machine aerator it will usually only cover a small percentage of the turf that you pass so it is important to go over compacted areas multiple times to ensure that it is sufficiently aerated. You should always aerate in straight lines similar to mowing or scarifying. It is advised to aerate around the perimeter lastly to cover your turning area.
After lawn aeration
Once your lawn aeration is complete you should apply fertiliser and top dressing to give your grass the extra ingredients it needs to thrive and begin to become a thick green healthy lawn. Continuing to mow and water your lawn regularly after the process of aeration will also help a great deal towards growing healthy grass in a shorter time frame.
For more information on how to look after your lawn head to our advice and inspiration section. And you can also discover more tips and tricks for a healthy lawn with our expert lawn videos over on our YouTube channel.
Frequently Asked Questions about how and when to aerate your lawn
What is the best way to aerate a lawn?
The tools you use for lawn aeration will depend on the size and condition of your lawn, as well as your budget. In terms of technique, lawn aeration involves creating small holes in the ground to improve drainage, prevent water-logging roots, aid air circulation and help improve nutrient uptake. Make sure you always aerate in straight lines as you would do with mowing or scarifying.
What happens if I don't aerate my lawn?
If you don't aerate your lawn your grass can thin out and eventually die. This is due to a lack of oxygen, water and nutrients.
Can I aerate my lawn with a pitch fork?
Yes, a pitch fork is a good example of a hand aerator. It's a cost-efficient solution that works well for small gardens although it does require a lot of hard work!